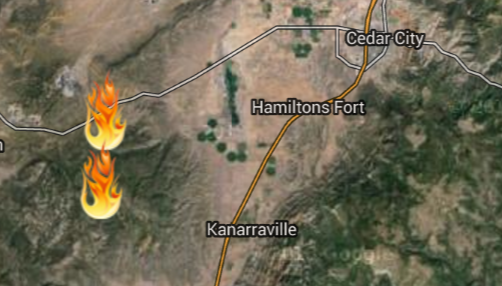 IRON COUNTY, Utah, June 16, 2016 (Gephardt Daily) — A firefighter has been injured while battling the Aspen wildfire in Iron County.
The firefighter reportedly tripped on a rock in the rough terrain and suffered a head injury. The condition of the firefighter, who was flown to the Dixie Regional Medical Center in St. George, has not been released.
The Aspen wildfire is about 13 miles southwest of Cedar City. About 400 acres of land were burning at last report.
The Aspen Fire is threatening at least 20 homes and buildings. Ground crews were working Thursday to enhance fuel breaks by clearing vegetation near structures.
Two miles south of the Aspen fire, a fire named for Pine Canyon has consumed about 60 acres. Authorities are concerned the two fires may connect.
In the same area, a third blaze, the Saddle Mountain fire, has only burned about an acre so far.