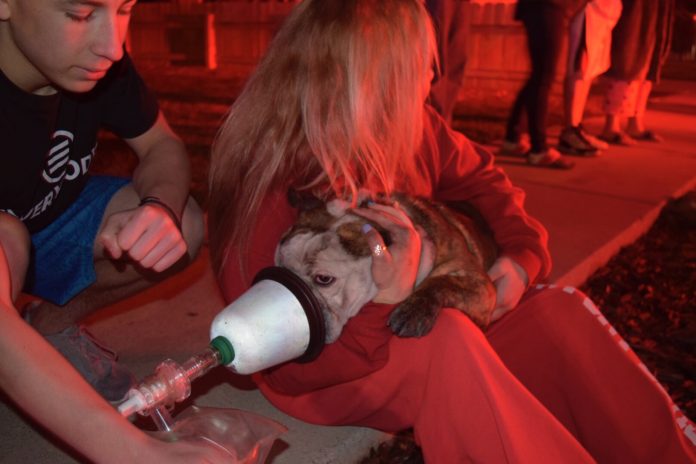 WEST VALLEY CITY, Utah, March 25, 2018 (Gephardt Daily) — A home on Panamint Road sustained extensive damage when it caught fire late Saturday night, but the residents are safe and so is their 2-year-old pregnant bulldog.
Battalion Chief Jed Peters, West Valley City Fire Department, told Gephardt Daily at the scene that crews were dispatched at 11:40 p.m. to a house fire at 4917 Panamint Road.
When crews arrived, "a lot of smoke and flames were coming from the back side of the house," Peters said.
He said it took firefighters 25 minutes to get the blaze under control.
The residents of the home — two adults and three children — were already outside when fire crews arrived.
The family's pet bulldog, however, had "freaked out," the firefighters said, and it took three of them to get the dog under control and bring her out once the flames were extinguished. She quickly calmed down when she was reunited with her owners.
Peters said damage to the interior of the structure was significant, and the home is uninhabitable.
No other buildings were affected, but Peters said the family's vehicles may have sustained some heat damage.
The Red Cross is assisting the family with accommodations.
The cause of the fire is under investigation, and no estimate of damages was available overnight.