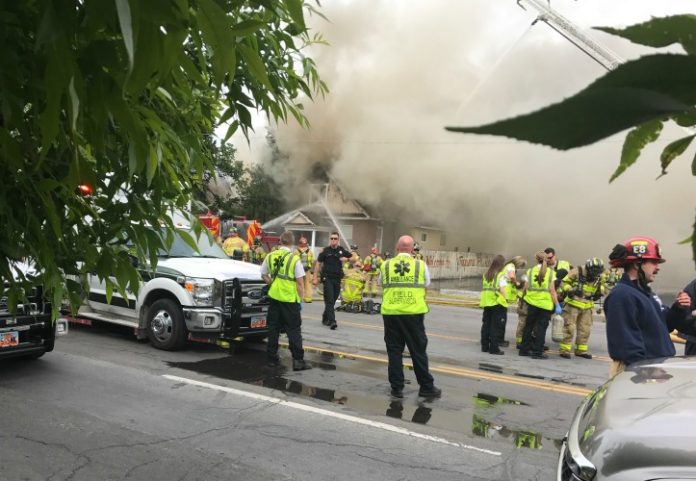 SALT LAKE CITY, Utah, May 15, 2017 (Gephardt Daily) — Firefighters responded Monday afternoon to a two-residence, four-household blaze on Salt Lake City's near westside.
The homes, at 151 S. 900 West and 141 S. 900 West, were fully involved when crews arrived at about 2:55 p.m. According to a fire department news release, between six and eight people lived at the 151 South property, which was separated into three apartment units, and one person resided at 141 S. 900 West.
The two homes, two outdoor shed structures and two cars involved in the fire were completely destroyed, the release states. The east side of both structures collapsed.
"It just happen so quickly, it spread so rapidly," said Salt Lake City Fire Department information officer Audra Sorensen. "When I got the call, it was one alarm, then I got a call that it was two. Then I got stuck behind a train, and by the time I got here, it was a four-alarm.
"It was just a very aggressive fire," she said. "Sometimes it may have to do with the construction, or it may have to do with how it started. Investigators will have to figure that out. It was just a quick-moving fire."
No residents were home when dispatch was alerted to the fire, Sorensen said. The Red Cross responded to the scene to arrange temporary housing for anyone who needed it.
"All the residents have been notified," Sorensen said. "One guy called, and one came and saw it, and called the landlord. The house to the north had the one renter, and he's here."
Sorensen told Gephardt Daily at about 4 p.m. that small flames were still popping up, and it was likely that crews would be on the scene well into the night, looking for any remaining hot spots.
Sorensen said that about 65 firefighters, 10 fire trucks and two ambulances responded to the scene. All were from the Salt Lake City Fire Department, which is located fairly close to the fire, she said. Crews had been through recent active training and were able to work together to knock the blaze down.
The fire was fought defensively after it was determined no residents were inside the buildings, and when the roof of at least one building began to collapse into the structure.
There were no injuries to residents or firefighters. The cause of the fire is still under investigation, as is its origin.
According to the release Monday evening, there was a total loss of two homes, two sheds and two cars, and another eight cars had heat damage The cost of property damage was estimated at $300,000, with other damage still to be estimated.