SALT LAKE CITY, Utah, Oct. 25, 2023 (Gephardt Daily) — The Christmas season is a busy time for Utah's self-proclaimed man band GENTRI.
The group, whose name is short for "The Gentlemen Trio," was established in 2014 and is comprised of three dynamic tenors: Casey Elliott, Brad Robins, and Bradley Quinn Lever. The fourth member of the group is the award winning composer, arranger, and producer Stephen Nelson.
The band has released both full-length albums and EP's, the most recent being a Christmas album, "Season of Light." Almost all of GENTRI's albums have reached #1 on various Billboard charts. The Gents are also known for their award-winning music videos, which have been featured on news outlets around the world including "ABC World News," "NBC Nightly News" and "Inside Edition." Their music videos have amassed over 200 million views on YouTube and Facebook, and they have 192,000 subscribers on their YouTube channel.
GENTRI has performed all over the United States and across the globe, sharing the stage with world-renowned talent including Tony Award-winning powerhouses Kristin Chenoweth and Idina Menzel and international tenor sensation Alfie Boe, as well as legendary rock bands Journey, Blondie and One Republic.
It's also important to the trio to give back; the band members have partnered with The Younique Foundation, now known as Saprea, in helping women find healing after surviving child sexual abuse.
Elliott recently took the time to chat to Gephardt Daily about subjects including his career, faith, family and future plans.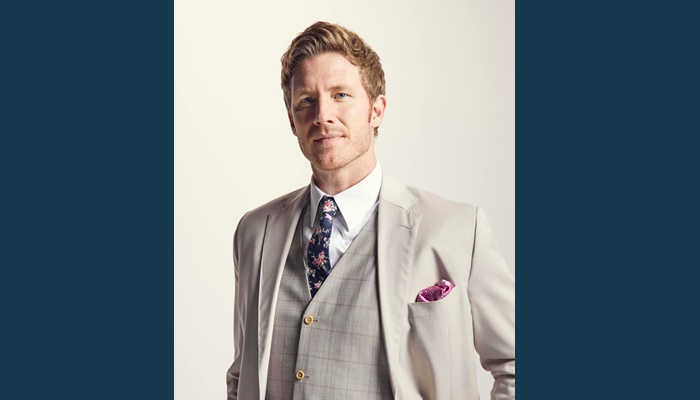 Elliott, who grew up in a musical family and started taking voice lessons at age 15, told us about his path to becoming a professional actor and singer.
"It started at a young age; my dad is a film composer and my mom is a singer, songwriter, artist, so I just grew up in that environment," he said. "So I was originally from Southern California and when I was a kid, we moved to Utah when I was about eight. But before that, all my memories, basically, of Riverside, California were my parents; they had a band and they converted our garage into a rehearsal studio space. So I was just constantly surrounded by music, and they did cover songs, they wrote their own music. So that's where I think I caught the bug, but I don't know that I really caught the acting bug until high school. Musical theater in high school was where I really found my love for the stage and acting; combining singing with telling a story, playing a character. I had the most amazing theater teacher at Woods Cross High School. Her name is Janet Cook, she's retired now. Just the most amazing teacher, like the kind of educator you see in the movies that just inspires kids and helps them believe in themselves."
Elliott served a mission for the Church of Jesus Christ of Latter-Day Saints, then he says he "jumped back" into musical theater at Weber State University.

"Somebody told me that Weber State had a really good theater program with [now retired director of musical theater studies] Jim Christian, so I went up there and auditioned for the program and got in on a scholarship," he said. "So I did that for about a year, and after that I decided to actually switch majors to business. I met my wife at Weber State, we got married, and I got into the business school up there. I actually loved it; I kind of discovered this new passion but I was still doing musical theater, I was in 'Secret Garden' up at Weber, different acting classes, but I just decided to major in business and continue to do theater."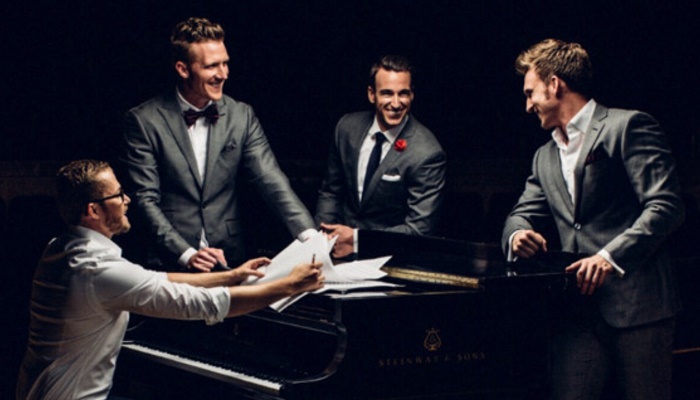 Elliott added: "I went on tour with 'Aida,' in the middle of my schooling. It was in 2006 and I had just played Radamès at the Hale Center Theatre, the West Valley Hale, and a couple of the cast members in that production had heard about auditions for the tour happening in LA, and one of them called me up and said, 'I'm on my way down to audition for 'Aida," and I was like, 'oh, great, can I audition?' Like inviting myself. That was on a Thursday and the auditions were Saturday, so I got online and emailed the casting director and he emails me back Friday afternoon and is like, 'if you can be here tomorrow, then we'll see you,' so my wife and I and her mom jumped in our car and drove through the night down to LA."
The tour ended up being around a year long, then Elliott and many of the same cast members did a tour of China in 2008 lasting three-and-a-half months. Elliott said his wife had just graduated and their first child was under a year old at this time. His wife was able to join him for a good part of the tour, he told us.
"I think her mom drove our car out to the first stop on the tour, and then we just had our own car, did our own thing, but she was with me for probably 90 percent of that tour," Elliott said.
He also talked about how he met the other members of GENTRI.
"So the official GENTRI story is that we all met during 'Les Mis' at the Hale Center Theatre, which is true, that was the first thing we all did together, but we all kind of knew each other from different things, before that," Elliott explained. "I met Brad Robins doing a production of 'Beauty and the Beast' at the old Rodgers Memorial Theatre, in Centerville, he played the Beast and I played Lumière, right before he left for his mission, then he and I kind of lost touch for years, then when he and I both did 'Les Mis' in 2014, we just reconnected, and hit it off. And then Brad Lever and I had done another production at Hale Center Theater of 'A Tale of Two Cities' and that's where I met him for the first time, so that [Les Mis] was kind of the first thing we all did together."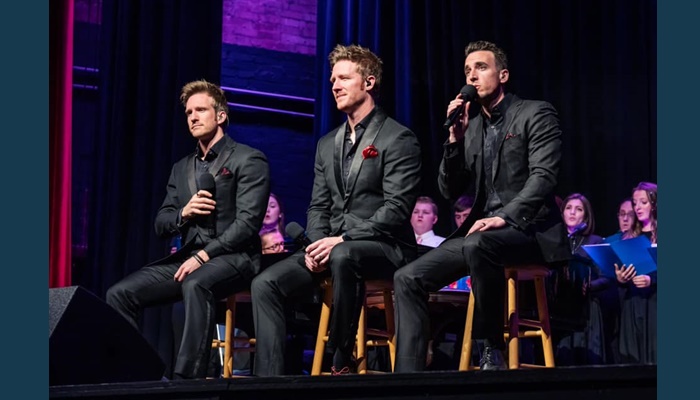 Brad Lever was then at Elliott and his wife's house with another friend that he had toured in "Aida" with. Elliott's wife had been at an event called Time Out for Women; which is a weekend celebration of faith, with messages and music from authors and artists. She described to the group that there had been a boy band performing.
"She was telling us about it, she was like, it was good, they were good singers, but they're all young 20s and they're talking to these middle-aged women, just about life, and things that kind of seemed beyond their years, and she said they were very much like boys," Elliott said. "At the time, I was like, almost 30, 29 or 30. She's like, wouldn't it be cool if you guys just start a group, being older, being more, you know with families or whatever, it just would resonate better with that group of people. And so as we talked about it, my other friend, she lives in LA, she was like yeah, like the dating scene in LA, it's really tough because so many of the guys that she; she's very, very conservative, very traditional, and she's like, a lot of the guys are not like that in LA; pulling out a chair, the art of being a gentleman, paying for the date and opening doors and just the chivalrous types of things, that she wanted, she wasn't seeing. So the more we talked about it, we were like, yeah, that's something that's kind of getting lost in our day and age where masculinity is like, looked down on."
He added that when the band started: "Honestly, we didn't know what we were going to sing, until, I had just done an event with Stephen Nelson, a friend of mine knew him as an accompanist, as somebody who could like change the key on the fly, and kind of like play anything, and it's like, oh, that's great. Let's call him. After that night, he was the first person that I called because I knew that we needed somebody, to not only play for us but arrange music. He has been just an incredible musical talent. So we started thinking, let's do musical theater stuff because that's what we do, before we got into it, the scope of his talents was pretty vast that that he could arrange pop songs in a really unique way for our voices. He can write original music and he showed us a project he was working on with a lot of orchestral stuff, we heard that and we were like, well that's very theatrical, and what if we did something like that, where it's theatrical, and cinematic, and epic, and emotional and all the things that we love about musical theater, basically. Can we do a version of that to be maybe more broadly appealing to audiences that aren't necessarily into musical theater?"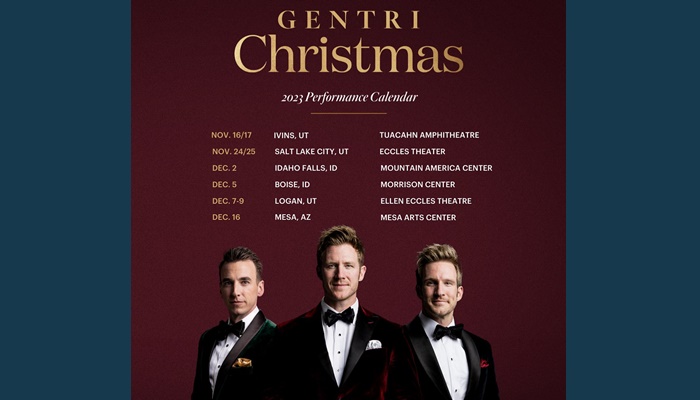 Fast forward to 2023, and GENTRI is set to begin a Christmas tour next month, beginning in Ivins, then visiting Salt Lake City's Eccles Theater on Nov. 24 and 25, then going to Idaho Falls and Boise in Idaho, Logan, and Mesa, Arizona.
Elliott described what GENTRI's Christmas shows are like.
"The name we gave ourselves originally was cinematic pop," Elliott explained. "And I think that's kind of a good description, and another funny way that we describe it is if our music doesn't make you want to cry like a baby or run through a wall, then we haven't done our job. So it's like, imagine your favorite Christmas songs, orchestrated with lush, even at times epic orchestrations, with three-part tenor harmony. It's sweeping stuff, it's small intimate guitar piano stuff; the spectre is very broad. And so I think we appeal to a lot of people in that way, because it's not all, sort of reverence, and whatever some people may expect from us. But it's fun, it's upbeat, so people laugh and cry, all the things."
He says the band work on the Christmas concerts throughout the year.
"We probably start thinking about venues and things in November of this year, just the nature of how far in advance you've got to work on that," he said. "It starts to ramp up a lot this time of year with rehearsal, and making sure we get all the production stuff pulled together. We decided it would be a good idea to record a new Christmas album and a new hymns album. We probably are actually going to wait to release a new Christmas album until next year, and do the hymns album in the spring."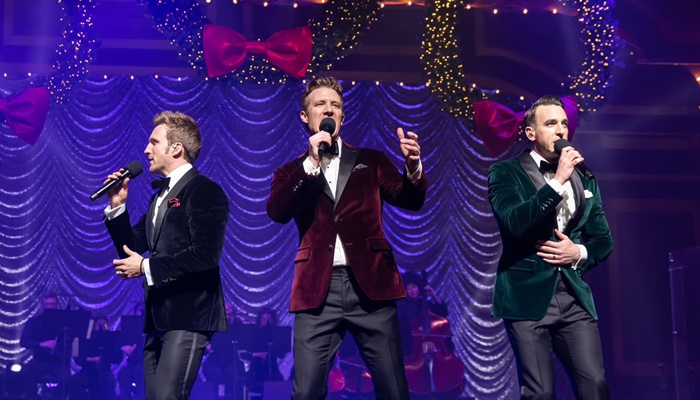 He added: "We used to do more dates like spread out across the country, and we've shifted our strategy a bit to try to add more shows in each of the markets that we go to, because criss-crossing the country during the winter is also not very fun; we've more than once had to drive through the night because of canceled flights or whatever so it's nice to be able to say okay, we're gonna try to do four or five shows in Salt Lake and similar models in like Boise and Mesa and Idaho Falls."
Elliott told us that all four of his children enjoy music, and he recently finished making a movie with one of his daughters, Eve, called "Destined 2: Christmas Once More," which will play on the Great American Family channel this season. Eve was also in the first film, "Destined at Christmas." "She had no acting experience, so I told the director on the first film, oh I have a daughter that's the same age of this character, I'd love for her to audition at least and tell me what you think," Elliott said. "And she loved her. Before we got on set, I had no idea how she was going to react, or think about it; she's so at ease and natural with everything."
We also asked Elliott what roles are still on his bucket list; he recently played the title character in a concert version of "Joseph and the Amazing Technicolor Dreamcoat" at the Eccles Theater.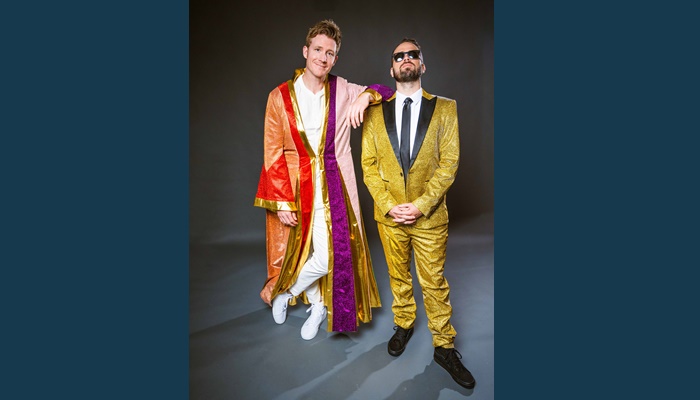 "I think at this point, I would be really interested in originating roles or things like that; sometimes they can surprise me, even just doing the 'Lamb of God: The Concert Film,' I wasn't super familiar with that music but as soon as I started kind of getting into it, it's become one of my favorites," he said. "The character Peter was so fun to explore. I don't have anything on the radar but I know there are roles out there, projects out there that would be very fulfilling."
Elliott also spoke about what else brings him joy in life.
"I love the outdoors," he said. "The mountains are my happy place. So anytime I can go on a hike or a trail run, mountain biking, skiing, camping, anytime I can get up in the mountains, really just being outdoors. A few years ago my Dad wanted to get into golfing, he wanted to spend time with his kids and so he started kind of organizing weekly, or every other week, rounds of golf where you just kind of send the text out, where he'd say, we're going to do this day, at 5 p.m., anybody who can join, let me know, so that's been really fun. Just to spend time with him, with my siblings. Just be outdoors, outside."
For more information about Elliott, GENTRI and the Christmas tour, click here.