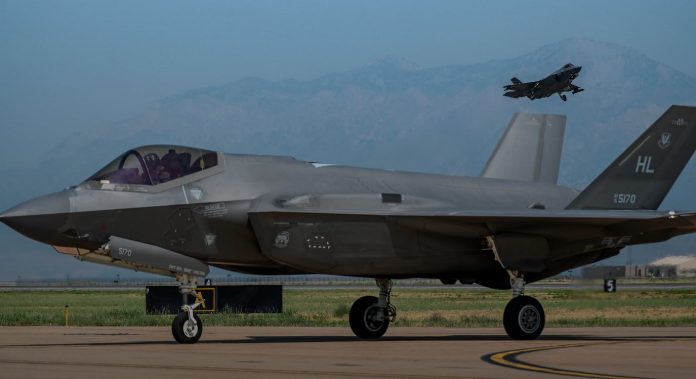 HILL AIR FORCE BASE, June 7, 2023 (Gephardt Daily) — Starting this month, the active duty 388th and Reserve 419th Fighter Wings at Hill Air Force Base will begin flying operations with the F-35A Lightning II at about 8 a.m. on most weekdays through the end of summer.
The earlier start will also bring an earlier end to the flying day, and will ensure a more stable schedule, preventing the loss of training due to afternoon thunderstorms, which have already forced the cancellation of flightline operations at Hill several times this month, a statement from the HAFB 388th Fighter Wing says.
"Exact times may vary based on several factors. Not only the weather, but also airspace availability on the Utah Test and Training Range, and other support elements," it says.
Hill's Airmen must meet training-hour requirements to maintain their readiness as the Air Force's largest F-35A combat unit. The F-35 is the nation's most advanced fifth-generation fighter aircraft with capabilities vital to deter potential adversaries.
All of Hill's fighter squadrons have deployed in support of combat operations in the Middle East, and remain ready when called upon. Early last year, the 34th Fighter Squadron deployed to Spangdahlem Air Base, Germany, in support of NATO's defense posture, and the 421st Fighter Squadron deployed to Anderson AFB, Guam, and throughout the Pacific region, conducting agile combat exercises over the summer.
Hill AFB is home to 78 F-35A Lightning IIs. The 388th and Reserve 419th Fighter Wings, the Air Force's first combat-capable F-35A units, fly and maintain the jet in a Total Force partnership, which capitalizes on the strength of both components.