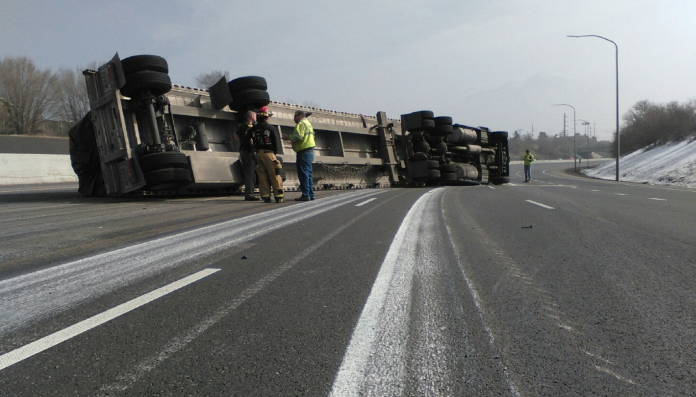 MURRAY, Utah, Feb. 13, 2016 (Gephardt Daily) — Tempers flared and sparks flew Saturday morning on I-215 after an angry motorist's "brake check" sent a tractor-trailer loaded with steel sprawling onto its side.
According to Utah Highway Patrol Sgt. Chad Hecker, the semi appeared to be speeding as it turned southeast from I-15 onto the I-215 on ramp.
The driver of a red passenger car who feared being cut off "attempted to show his displeasure" and slammed on his brakes after changing lanes into the path of the truck.
The driver of the big rig took evasive action, but ultimately lost control of the semi, which crashed in a shower of sparks.
The UHP says the driver of the truck had minor bumps and bruises, but was otherwise uninjured. It's unclear if he'll be charged with speeding.
UHP investigators say they are trying to track down the driver of the red car.