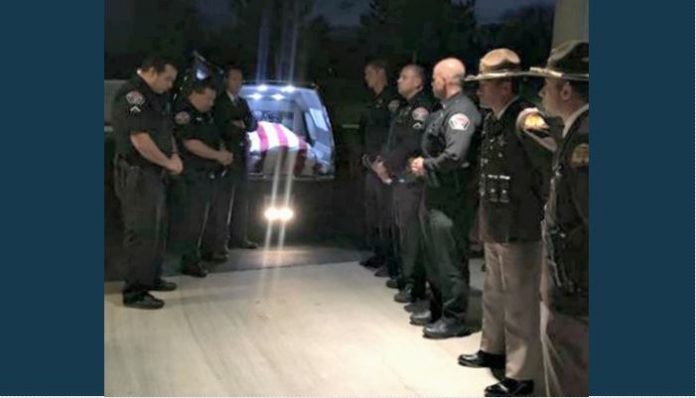 SALT LAKE COUNTY, Utah, Nov. 11, 2016 (Gephardt Daily) — "Even in death, a fellow officer is not alone."
.
The Utah Highway Patrol has posted a photograph of the multi-agency honor guard standing vigil over the body of Officer Cody Brotherson, 25, who died on Sunday after being struck by a speeding vehicle he was trying to stop by placing a nail strip.
Police say three juveniles, one age 14 and two age 15, were in the car after stealing it and fleeing from officers at the scene.
Brotherson let behind his parents, two younger brothers who looked up to him, and his fiancee.
The Utah Highway Patrol posted the somber photo and the following message on its Facebook page:
On the morning of November 6, 2016, the UHP Honor Guard was asked to assist West Valley and other agencies with an Honor Watch for fallen peace officer Cody Brotherson of the West Valley Police Department. At the Office of the Medical Examiner, troopers of the Honor Guard posted near Ofc. Brotherson and kept watch. This act is done in solidarity and shared mourning with the West Valley Police Department and to demonstrate to all that, even in death, a fellow officer is never alone. We grieve with our sister department and hope for them to know this: we have felt your loss, been where you now are, and will always have your backs. Godspeed, Cody.
Comments on the Facebook included the following:
• Our deepest heartfelt condolences for our fallen officer Cody Brotherson may you rest in paradise! Grateful to all our officers who put their life on the line for us; true soldiers.
• RIP brother gone but not forgotten.
• My heart hurts for this family. My husband served 29-3/4 years with UHP and came home safely to retire. We can only imagine this family's pain. Our prayers are with all of you who serve.
• This made me cry. May he rest in peace. Thank you for your service and sacrifice.
• Thank you all for your sacrifice. I know what you do to protect us. I love and support all law enforcement. RIP Cody.
Brotherson's funeral, which is open to the public, will begin at 10 a.m. Monday at the Maverik Center, 3200 S. Decker Lake Drive, West Valley City.
Gephardt Daily will have a crew at the scene, and will offer full coverage.