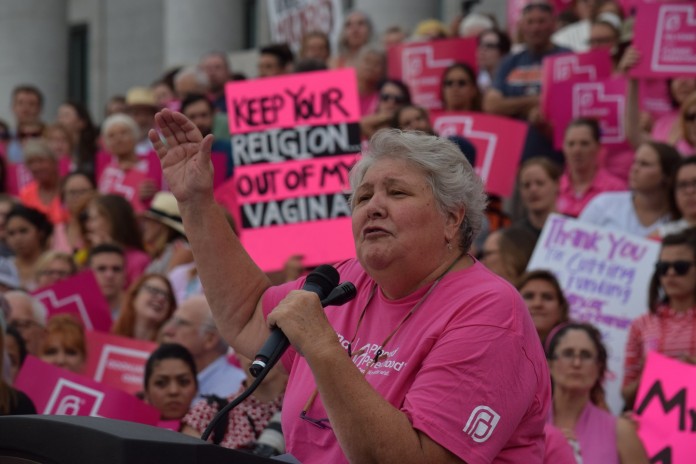 SALT LAKE CITY – August 25, 2015 (Gephardt Daily) – Hundreds of demonstrators massed on the steps of Utah State Capitol Tuesday evening to voice their support for Planned Parenthood.
The rally comes one week after Utah Governor Gary Herbert issued an executive order blocking state agencies from disbursing federal money earmarked for Planned Parenthood.
Herbert made the decision in reaction to a clandestinely recorded video released by the anti-abortion group, Center for Medical Progress. The group claims the video is proof Planned Parenthood breaks the law by selling fetal tissue to medical researchers. Herbert called the allegations against Planned Parenthood "deeply troubling."
Planned Parenthood says there is nothing illegal about the research programs and their organization only accepts payments for the cost of the tissue harvesting. They say the mother's consent is also required before the tissues can be sold for research.
Tuesday night, a crowd of roughly 1,500 clad in pink, staged a raucous rally on the steps of the statehouse. Speaker after speaker took to the podium, lambasting Governor Herbert's decision to block Planned Parenthood's funding, characterizing the move as political panhandling coming at the expense of women's health in Utah.
"We're here because the governor has chosen politics over healthcare, said Karrie Galloway, Executive Director of Planned Parenthood of Utah. "Our business is healthcare. His business is politics. We are at a standoff."
It's a sentiment Galloway shared last week in an exclusive interview with Gephardt Daily.
"It's not about healthcare," Galloway said. "It's all about Planned Parenthood and the fact that we have made the woman's lady parts a political football. I don't find medical research disturbing. I don't find finding a cure for Alzheimer's, working on M.S., or on immunization, disturbing."
Planned Parenthood says just three percent of its services involve abortion, none of which are paid for by state or federal tax dollars.
According to Planned Parenthood of Utah's annual report, the organization provided healthcare services to 51,134 people last year: 100,423 obtained birth control, 16,485 were screened for sexually transmitted diseases, 1,247 abortions were performed, as were 86 vasectomies.
Several dozen anti-Planned Parenthood demonstrators attended Tuesday night's event. A week ago, hundreds turned out to voice their support for Governor Herbert's executive order, including Congresswoman Mia Love.
To see Gephardt Daily's exclusive interview with Planned Parenthood of Utah's Executive Director, Karrie Galloway, please click on the video player below.
https://gephardtdaily.com/local/exclusive-video-planned-parenthood-boss-rips-utah-governor/