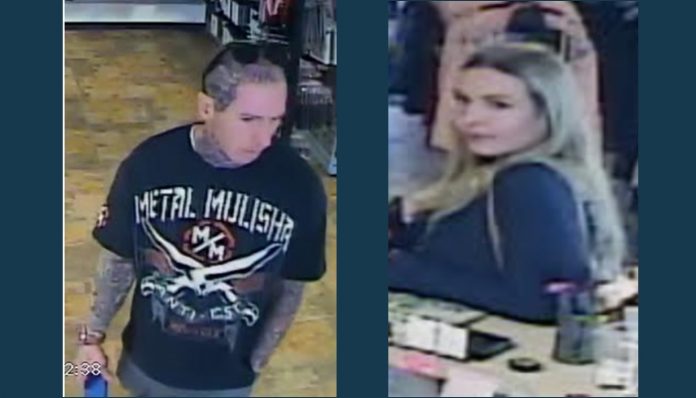 LOGAN, Utah, April 10, 2018 (Gephardt Daily) — Logan City police are attempting to identify two individuals who used four counterfeit $100 bills at a local retail store.
Besides paying for items using the counterfeit bills, the suspects stole $250 in merchandise, Logan City Police Department said in a news release on Facebook.
The woman has a tattoo on her left shoulder blade, police said, and the man is heavily tattooed. The store manager said most of the man's tattoos are black and gray, police said.
The man is seen in surveillance photos with a shaved head and wearing sunglasses pushed up on his head. He's wearing a T-shirt that says "Metal Mulisha," a clothing brand.  The woman has long blond hair and is wearing a navy blue shirt and carrying a shoulder bag.
Anyone who recognizes the pair or has any further information is asked to contact LCPD Detective Andrew Soelberg at 435-716-9475.