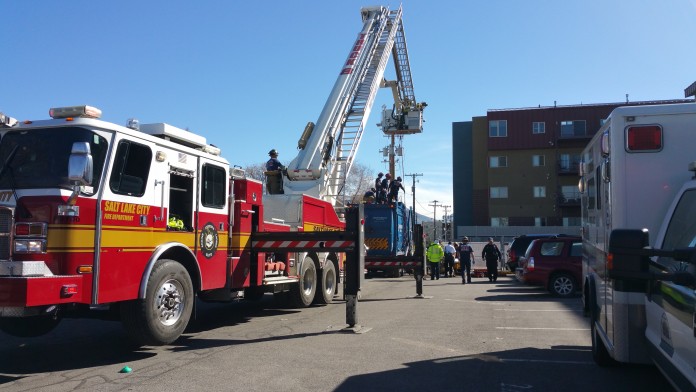 SALT LAKE CITY, Utah, March 10, 2016 (Gephardt Daily) — A man who was sleeping in a dumpster that was picked up by a garbage truck and dumped is in critical condition at the University of Utah Medical Center.
The truck driver said he was a few stops into his route Thursday morning when some trash landed on top of the truck, so he climbed on top to push it into the truck's hole.
That's when the driver saw the man inside the garbage truck, and heard him talking.
"The male was conscious but injured, and was calling for help," said Cpt. Mark Bednarik of the Salt Lake City Fire Department, which responded to the scene.
"He (the driver) got off at that point, called 911, and we responded to this location. He's not sure which stop the male came from because he's been to a couple stops already, but it wasn't at this location. He hadn't made the dump here yet."
"Our heavy rescue team was called out," Bednarik said. "They came here and were able to extricate him (the victim) out of the top of the garbage truck, and he's currently in critical condition on his way to University of Utah Hospital."
Bednarik said the victim was conscious and talking.
"He obviously doesn't know where he is at this point because he was inside the truck when they got to this location."
Bednarik said the accident could have been much worse.
"It's a very dangerous situation," he said. "We encourage people to stay out of dumpsters just for this very reason."
Trash missing the hole and landing on top of the truck happens frequently, Bednarik said.
"I spoke with the driver a little bit, and that's fairly common," he said. "When they see that, rather than letting it end up on the street, they will climb on top and put in into the hole."
The misplaced trash was lucky for the victim. Some others who have ended up in garbage trucks have died.
"There's always been stories across the Internet that talk about these sorts of things happening," Bednarik said. "When the garbage trucks come around they make these dumps, that's a dump from height, that's a 10-15 foot drop, and you're landing on other possibly hazardous materials that people throw away.
"And then those garbage trucks, they also compact as the go, and so large hydraulic compactors smash all that garbage together."
The driver was shaken but unhurt, and was helping officers by answering questions, Bednarik said. This kind of incident is rare in Utah, he said.
"I would classify this one as a pretty uncommon situation. Again, there's been reports of this happening across the nation for years,  but this is fairly uncommon. But it's common enough that we're concerned, again, that the message is getting out to stay out of dumpsters. They are not safe locations."