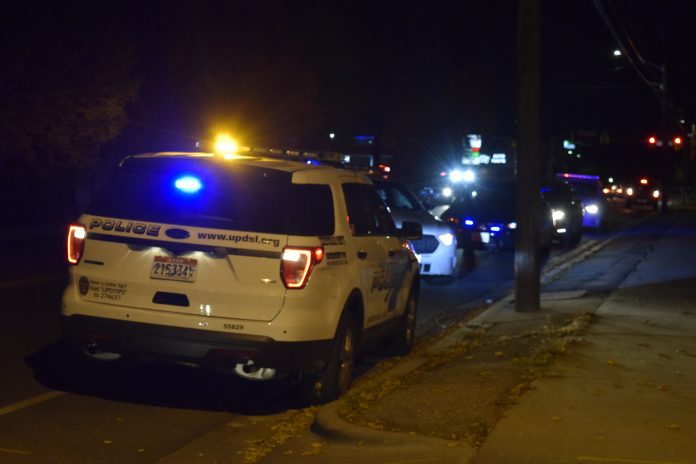 MIDVALE, Utah, Oct. 19, 2017 (Gephardt Daily) — One man is in custody after he fled from police in South Salt Lake and took them on a circuitous chase around Midvale Thursday night.
The driver of the car was Cesar Garza, 24, who has multiple felony warrants — a burglary warrant, an aggravated assault warrant, and who is an Adult Probation and Parole fugitive, Lt. Paul Barker with Unified Police Department told Gephardt Daily.
The incident began when a UPD detective sergeant attempted to make a traffic stop on the suspect vehicle in South Salt Lake at approximately 7:30 p.m., Barker said.
"The vehicle fled from him, he was able to get the license plate and a look at the driver, but that was all we had at the time was a traffic violation," Barker said. "With running the plate and through some investigation, he was able to talk to the registered owner, find out who is driving the car."
The car, Barker said, was not stolen, but had apparently been borrowed numerous times by numerous people.
Barker said Garza has connections with the Midvale area, where he was spotted at approximately 8:30 p.m.
"An attempt to locate was put out for the suspect vehicle, and the suspect," Barker said. "An officer spotted the vehicle here in the Midvale area, attempted to make a traffic stop — again the vehicle fled right away."
Spikes were deployed at 7200 S. 700 East, Barker said, and three out of four tires were spiked.
Because of the suspect's aggravated felony warrants, a pursuit was initiated. The suspect turned into the Union Plaza apartment complex, which is at 7233-7245 S. 700 East.
"The vehicle turned into the complex and then drove through the complex over the grass. Luckily didn't strike any pedestrians — it was still early enough in the night that there were kids outside playing," Barker said. "He did strike a power box, so Rocky Mountain Power is on scene. I don't believe power was knocked out to anybody in the complex, but they're looking into that."
The vehicle stopped, and the suspect was taken into custody at the apartment complex.
The suspect was the only person in the vehicle, Barker said. A woman who is a resident of the complex apparently knew the suspect and tried to interfere with the arrest, Barker added, and she also has been taken into custody.
Garza is likely to be facing charges of felony fleeing, hit-and-run to property and reckless endangerment.
"We're very lucky there were no injuries to citizens, to officers or to the suspect," Barker said.
Witness Christina Falkenrath said she opened her front door to see a car coming toward it.
"There were lights flashing in my bedroom. My back door faces this road, so I came out to see what was going on," Falkenrath said. "There were little kids running in front of the car, probably about four feet away. I ran inside, called out for my son, figured out where he was and we hid in the bathroom for a while until things calmed down and we knew it was safe.
"I'm mad at him for coming in my neighborhood and putting all these children at risk. I mean these little kids were outside, it was only about 9, 9:30-ish. It wasn't even extremely late for a school night and they don't have school tomorrow."
Gephardt Daily will have more on this developing story as information becomes available.