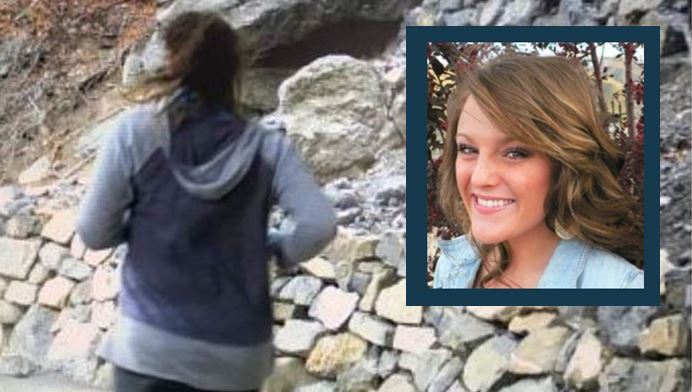 Update: For the most recent story, click here.
AMERICAN FORK, Utah, May 16, 2018 (Gephardt Daily) — The family of Jerika Alvey Binks, missing from American Fork since Feb. 18, has released photographs they say were captured on a motion-activated camera on the day she went running and didn't return.
A family run Facebook page, "Finding Jerika," said the images were captured by a Utah Department of Natural Resources camera at approximately 1:30 p.m. on Feb. 18.
Binks, 24, was last seen in person at about 9 a.m. in the area of 300 N. 1100 East (North Utah County Boulevard) in American Fork. She had been staying at a residential treatment center.
The post says: My sister Jerika Alvey Binks, was alive and well at 1:30 p.m. on Feb. 18. Which corresponds with the time of her last cellphone ping in Saratoga Springs. A DNR motion activated camera caught shots of her running DOWN on the National Timpanogos Cave trail, up American Fork canyon. We as a family have been waiting for a month to release these photos. Out of respect, and not wanting to step on anyone's toes who are aiding in the investigation. That's why our searches have been so dedicated to this area. They say it's her coming down the trail, there is not footage of her coming up, which leads us to believe she gained access to the trail elsewhere. Furthermore, that leads us to believe someone showed her an entrance prior to her run that day.
In releasing these photos, we hope to gain more information and access to the area in future searches. We are still waiting for gates to open.
We appreciate everyone who has aiding in any and all searches for my sister. It's very heartwarming to see the love and compassion our communities still possess, and to everyone reviewing drone footage, we thank you for your prayers and ask you to keep sharing. Let's bring Jerika home.
The family clarified in a Facebook discussion that Binks was not physically in Saratoga Springs that day, but that was the last tower that registered her phone as she headed up American Fork Canyon.
Since she went missing, there has been no activity from her phone or on her bank account. Binks left all her belongings behind except for her phone, including her wallet and ID, a statement from the Utah County Sheriff's Office said.
Family and volunteer searches of the area have failed to turn up any leads. Members of the UCSO Search & Rescue team have also used air assets and ground crews, including K-9s, to search, without success.
Binks' family, along with Fast Gas Convenience Stores and an anonymous donor, are offering a $10,000 reward for successful help in finding her or for details that lead to the arrest and conviction of anyone involved with her disappearance, according to information from the Facebook page.
Binks is described as white, 5 feet 4 inches, 120 pounds, with brown hair and eyes. Foul play has not been ruled out.
Anyone with information is asked to call Detective Pratt with the Utah County Sheriff's Office at 801-851-4013, or Utah Valley Dispatch at 801-794-3970.