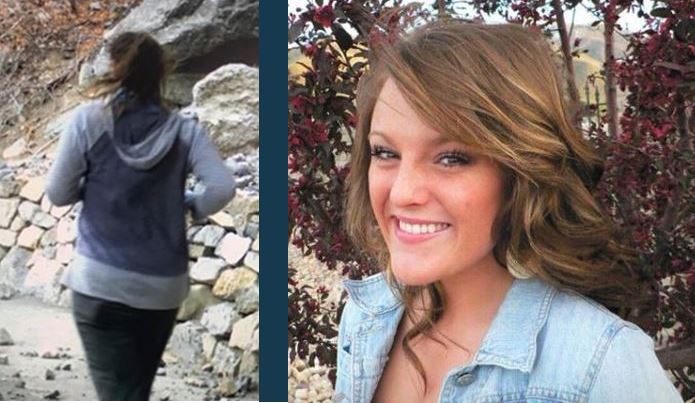 AMERICAN FORK, Utah, April 17, 2019 (Gephardt Daily) — Officials confirmed Wednesday that human remains found in a remote ravine in American Fork Canyon by a man climbing Sunday evening are those of missing woman Jerika Binks.
In a press conference called by the Utah County Sheriff's Office Wednesday at 4 p.m., Utah County officials said the Office of the Medical Examiner has confirmed the remains are those of Binks. The remains were verified through the missing woman's dental records, Utah County Sheriff Mike Smith said.
A cause of death has yet not been determined, but officials said Binks suffered a severe break to her tibia and fibula, the two long bones in the lower leg.
Officials said a cellphone was found near the remains, as were running shoes that match the description of those worn by Binks.
It is unlikely foul play was involved in her death, officials said. UCSO Sgt. Spencer Cannon said in a previous media briefing it would have been virtually impossible for Binks' body to be placed in an area that remote by another individual.
Cannon added the place Binks was found would have been very hard to access unless one was very physically fit.
"The picture that I included with the initial press release (below), I took that after we had removed the remains, the nature of the rocks and boulders in that picture are typical of the ravine, it was treacherous terrain and you look at that and you see how athletic she was," Cannon said. "For her, it was probably just another challenge."
Cannon said he hopes her family will get answers to some of the questions they have, but he added that other questions may not ever be answered.
UCSO Detective Steve Pratt, the lead detective on the case, hiked to the area she was found, and said he had to hike over two huge boulders and duck under trees. "It was very treacherous terrain, steep the whole way," he said. "We had searched down below but didn't go up that high, but we didn't really know where she was prior to getting the trail cam photos."
Binks' brother, Jed Alvey, thanked law enforcement officers and the community.
"Throughout this thing, there's been so much love and support for my family, and we truly appreciate it," he said. Alvey also thanked the man who found her.
"We really, really want to thank that gentleman who was on a hike that day, thank you for bringing my sister, a daughter, an aunt, a cousin, a granddaughter home, to her family, so we can put her to rest."
He added: "Some people may think we had a year and a little bit to grieve about it, but that's not the case, it hit my family like it just happened yesterday, but it was relieving, to know that we at least get to bring her home."
Deputies with UCSO were dispatched to contact a man from the Alpine area who said he found remains while climbing in American Fork Canyon on Sunday shortly before 8:30 p.m., a news release released by UCSO Monday said. Deputies and detectives responded to an area near mile marker 10 on SR-92, west of the Swinging Bridge picnic site.
"The man said he hikes regularly in that area but had never before hiked in this particular ravine," the news release said. "The terrain is extremely rugged and steep and the remains were located on the north side of the canyon about 850 feet above the floor of the canyon."
"While there was evidence of injury, there is no evidence at this stage of the investigation to suggest foul play was involved in this death," the news release said.
"The remains were recovered this morning, April 15, and have been taken to the Medical Examiner's office in Taylorsville where positive identification will be made."
Binks, who was 24 when she went missing, was last seen in person at about 9 a.m. on Feb. 18, 2018 in the area of 300 N. 1100 East (North Utah County Boulevard) in American Fork. She had been staying at a residential treatment center, and left to go for a run in American Fork Canyon.
Last May, her family released photographs they say were captured on a motion-activated camera on the day Jerika went running and didn't return.
The "Finding Jerika" page on Facebook said the images were captured by a Utah Department of Natural Resources camera at approximately 1:30 p.m. on that day, which shows her on the Timpanogos Cave trail in American Fork Canyon.
Binks left all her belongings behind, including her wallet and ID, taking only her phone, officials said.
Gephardt Daily will have more on this developing story as information is made available.