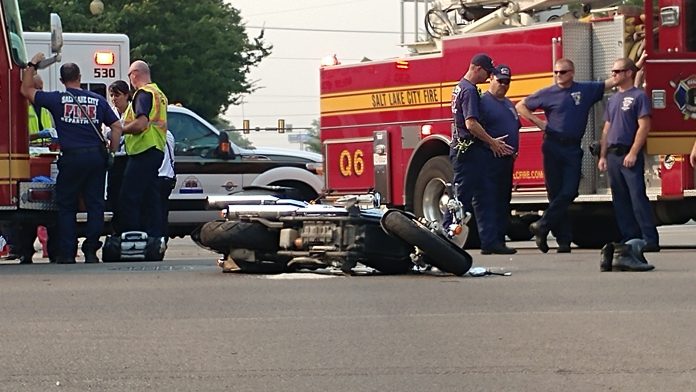 SALT LAKE CITY, Utah, Aug. 11, 2018 (Gephardt Daily) — A man died Saturday morning when his motorcycle collided with a car in Salt Lake City.
"We have a motorcyclist that laid down his motorcycle, and another car came through the intersection," Sgt. Jenn Diederich, Salt Lake City Police Department, told Gephardt Daily at the scene.
"He is deceased. He's a 50-year-old male. He must have realized either the car was coming at him, or (seen) the red light. We think it's possibly a red light. We are reviewing video."
A crash analysis team was being called to the scene as of 10 a.m. Drivers are asked to stay away from the scene, at 400 West and 500 South, which was expected to be closed for several hours for the investigation.
SLCPD officers were preparing to review video and to talk to witnesses in the area. Diedrich said they would also measure possible skid marks to learn if the motorcyclist or the female car driver hit the brakes.
"There's a little bit of a trail, but we don't know for sure right now. Until we measure all the skid marks, we won't know."
The victim was wearing a helmet, Diedrich said, adding she did not know his city of residence.