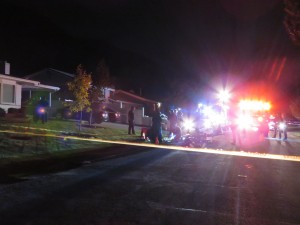 MILLCREEK, UTAH – October 30, 2015 (Gephardt Daily) – Police have released new details about the attempted home invasion and shooting that took place in Millcreek Thursday.
Unified Police Department spokesman Lt. Lex Bell said officers responded on the attempted home-invasion burglary that resulted in shots being fired at 3693 South Twinbrook Street Thursday at 2:04 a.m. When UPD arrived they located the suspect, Jesse L. Bruner, 34, deceased in the roadway in front of the home.  The homeowner, Russell Reed Jacobs, 47, was found several feet away, lying on the side of the road in critical condition.
At approximately 2 a.m. the Jacobs family was awakened by someone trying to kick in their front door. Jacobs armed himself with a .45 and a flashlight and ran to the front door to see who was trying to break in.  When the pounding on the door stopped, Jacobs, his wife, and his 18-year-old son went outside to see if it was a prank, but found no one in their yard.  When they returned to their front door, they noticed shoe prints on the door where someone had tried to kick it in.
Jacobs went back inside and got dressed. He then went upstairs and retrieved his .357 revolver and left his .45 behind because he trusted the .357 more and he was concerned the incident was more than a prank and that there might be a threat to his family. Once dressed, Jacobs opened the front door to look around the yard again with the flashlight in his hand.  When he opened the door, Jacobs spent several minutes looking around the yard but did not see anything unusual. Out of nowhere, Bruner began walking at them feigning an injury to his leg and asking to come inside. Knowing that Bruner had just tried to kick his door down, Jacobs stepped outside to confront the suspect.
The statement continued: "Jacobs was very involved in his community and church.  He had knowledge from his church calling about burglaries that had occurred in the area and that two homeless men from the neighborhood were thought to be responsible.  One of these men was Bruner.  Being concerned for the rest of the neighborhood, Jacobs followed Bruner as he walked north in the street, pointing a flashlight at him.
"Approximately three to four houses north of Jacobs' home, Jacobs said something to Bruner to the effect that he knew who he was. Bruner then turned around and said something back to Jacobs while simultaneously producing a sawed-off shotgun from his side and shooting Jacobs. The blast hit Jacobs' outstretched left hand and flashlight first and then entered his chest. Jacobs returned fire, shooting four shots at Bruner, who was hit once in his arm and chest. Two shots went through his clothing in the stomach area, but did not hit his body, and the fourth shot missed entirely.
"Tragically, Jacobs' 18-year-old son witnessed these events from close by and rushed to his father's aid.  Several neighbors also heard the gunshots and ran outside to help.  One of those neighbors was a doctor and quickly conducted triage of the two victims. Bruner was found to be without a pulse and obviously deceased. Jacobs was still showing signs of life and neighbors quickly began giving him CPR and trying to treat his wounds. Unified Fire Authority arrived and took over life-saving efforts.  Sadly, Jacobs could not be revived and was pronounced dead at the scene."
Russell "Rusty" Jacobs is the father of four children,;however, only his 18-year-old son was home at the time of this tragic event. His wife was also in the home and on the phone with 911 when this occurred. It is our thought that Jacobs was acting out of concern for his own family and his neighbor's safety when he followed Bruner away from his house.
Bruner was searched on the scene as part of the investigation. In addition to the sawed-off shotgun, he had two large butcher knives tucked in his pants and a third smaller knife clipped to his pants. These two butcher knives were so large and positioned in such a way that Bruner would not have been able to run because he would have cut or stabbed himself in the legs. It also appears he tried to reload the shotgun after shooting Jacobs, but was stopped after being shot.
UPD investigators would like to talk to anyone in the area who may have seen Bruner during the last day or two or may have any information that would help them with this case.  If you have any information, please call the Violent Crimes Unit at 385-468-9820.