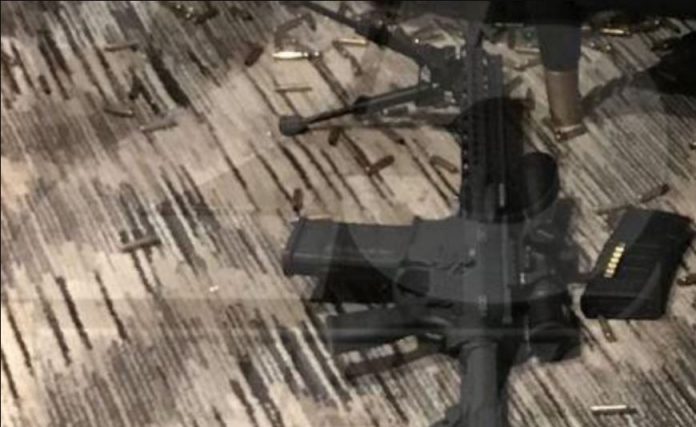 For an updated story, click here.
LAS VEGAS, Nev., Oct. 3, 2017 (Gephardt Daily) — Nevada's Clark County Sheriff released additional details Tuesday on the ongoing investigation of Stephen Paddock, the Las Vegas shooter who on Sunday night fired modified semi-automatic weapons into a concert crowd from a hotel suite above, and who was responsible for 59 deaths and 527 injuries at last count.
Sheriff Joe Lombardo, speaking at a 2 p.m. news briefing, revealed that several more guns were found at Paddock's Reno residence, which was searched late Monday. Investigators found five handguns and two shotguns, bringing the total number of guns in Paddock's two homes, hotel suite and car to 48.
Paddock, 64, reportedly a reclusive millionaire who enjoyed gambling on video poker at $100 a hand, also had set up cameras inside and outside of his Mandalay Bay hotel suite in anticipation of the shootings, Lombardo said.
Lombardo speculated that the hallway cameras were to alert Paddock when officers arrived to take him into custody. As a guard approached the door, Paddock shot through, striking the guard in the leg, Lombardo has said. Before the SWAT team was able to knock down his door, Paddock shot himself dead.
The initiative and the fast work by the Mandalay Bay hotel security guards cut down on the time it took to locate Paddock, Lombardo said, and undoubtedly saved numerous lives that would have been lost had the shooter had more time to target victims.
Lombardo also updated the whereabouts of Paddock's girlfriend, former casino waitress Marilou Danley, who is traveling in Asia, and is currently in the Philippines, he said. Danley remains a person of interest in the case, the Sheriff said.
In addition, Lombardo revealed that Paddock had sent $100,000 to someone in the Philippines, and investigators hope to learn exactly where the funds went.
Lombardo also stressed the importance of the "see something, say something" directive, which asks citizens to report anything that looks suspicious. Lombardo said Paddock had room service delivered to his room. If any hotel staff was allowed in the room and had noticed guns, excessive suitcases or anything hinting at Paddock's preparing his 32nd floor "sniper's nest," that information could have alerted police sooner, and maybe saved lives.
Lombardo urged cab drivers, house keepers, food servers, or any member of the general public who sees something suspicious in the future to alert police.
"We pray that citizens who see something, say something," Lombardo said. "Quite often, citizens see something they think is trivial and don't want to bother police," but police appreciate the help, he said.
A significant amount of information in the case will be released in the next 48 hours, Lombardo said, but for the next day, the major focus will be ensuring the safety of President Donald Trump, who is scheduled to visit on Wednesday. Law enforcement officials from Las Vegas and surrounding cities will coordinate to provide maximum safety for Trump while keeping the region safe for residents.
"It takes a great deal of resources to protect the president," Lombardo said.
Lombardo made reporters laugh when he tried to explain that he would not tell them everything he knew.
"When I say 'I do not know,' I may know," he confessed, adding that some information must be withheld to preserve the integrity of the investigation.
Lombardo also hinted at the extensive amount of information to be reviewed as part of the investigation. Experts had examined video from most of the 67 body cameras police officers wore, he said, adding that outdoor cameras and footage shot and shared by people who were at the concert or in the area is also being closely examined.
Lombardo said every new piece of evidence found makes it clearer just how well prepared Paddock was to cause the carnage he did.
"For him to take it upon himself to create this chaos and harm is unspeakable," the sheriff said.
But law enforcement officers have also been buoyed by the brave actions of concert goers and local citizens, Lombardo said.
"(We have seen) very heroic acts of people attending the event, and normal citizens providing medical aid and transportation for victims to get to the hospital."
A GoFundMe account set up by Clark County Commissioner Steve Sisolak to help victims of the attack had raised $4 million as of late Tuesday afternoon.
In addition, at least three people with Utah ties were killed in the attack, and some have families that are taking donations for funerals. To read about the three, click here.