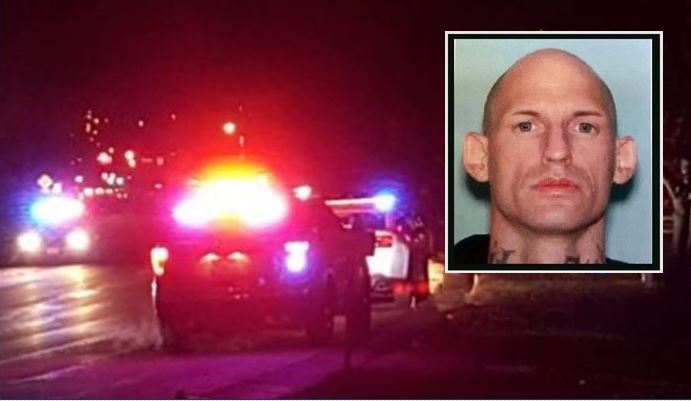 OGDEN, Utah, Nov. 10, 2018 (Gephardt Daily) — Ogden police have identified a man who was shot and killed Friday night by local officers.
The man was 33-year-old Christopher William Parrish, a man convicted for felonies in Arizona and Oregon, and apparently just passing through Ogden when he had a manic episode in the Walmart at 1959 Wall Ave., and was brought to the attention of officers who were there on another matter.
Ogden Police Chief Randy Watt talked about the officer-involved shooting to reporters gathered at the police station on Saturday afternoon. Watt said Parrish was at the Walmart, acting violent and trying to get people to fight with him, when someone notified patrolmen who were at the store.
"He was manic and threatening," Watt said of the incident, which began at about 6:45 p.m.
The officers saw Parrish get into a car and begin to leave the parking lot to drive onto 20th Street. They initiated a traffic stop, and Parrish got out of the car and began to run south in the woodsy area between 20th South and 21st South, both of which are large, one-way streets.
Officers were chasing Parrish on foot when he stopped and picked up a "baseball-sized rock," Watt said, and began actively threatening the officers with it.
Watt said attempts to stop Parrish with a Taser failed, as did orders to stop, so both officers fired their service revolvers, both hitting Parrish. Attempts to save his life failed, and Parrish was pronounced dead at the scene.
The officers were not injured, Watt said.
Parrish's next of kin, his mother, was contacted and informed of the death on Saturday afternoon, Watt said. He also shared some of what officials had learned about Parrish.
His last known addresses were in Phoenix and in Surprise, Ariz. He has no known connection to the Ogden area, but was using a car registered in Ogden, with the owner's permission.
There's a burglary warrant out for him in Arizona. He is listed as a missing person out of Montana.
His felony convictions in Portland and Arizona included burglary and assault with a deadly weapon.
Parrish had prison tattoos that identified him as being affiliated with two Aryan nation gangs, Watt said.
An autopsy was conducted on Parrish on Saturday afternoon. Toxicology results, which could indicate if he was drunk or high at the time of the incident, should be available in about six weeks.
In keeping with Officer-Involved Critical Incident protocol, an agency other than the one involved — which in this case is the Ogden City Police Department — will investigate the case. The Weber County Attorney's Office will conduct the independent investigation.
This was the second officer-involved critical incident in Ogden in less than 36 hours. To read about shots fired during an arrest at a local eatery, click here.