SALT LAKE CITY, Utah, March 25, 2018 (Gephardt Daily) — Thousands of Utah high school students — backed by thousands of supporters — staged a mass rally on Utah's Capitol Hill Saturday, demanding change to the nation's controversial gun laws.
The estimated crowd of 8,000 people joined millions of other demonstrators across the nation Saturday as part of "March for Our Lives" day, a reaction to the Feb. 14 massacre of 14 students and three faculty members at Marjory Stoneman Douglas High School in Parkland, Florida.
Like their tenacious high school counterparts in South Florida, the students who spoke in Salt Lake City did so with a passion and forthrightness seldom matched on Utah's Capitol Hill.
Angry and seething with resentment, the teens expressed not only sadness, but a  sense of betrayal, with speaker after speaker posing the same question … How could adults allow this happen?
"Enough is enough," the crowd chanted in response.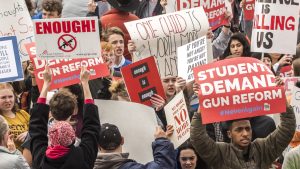 Saida Dahir, a 17-year-old junior at the Academy for Math, Engineering and Science, was the first student to address the demonstrators. While she may attend a high school academy noted for math and science, it was her command of slam poetry that set the tone for the afternoon.
The first line in the first stanza of her poem pretty much said it all.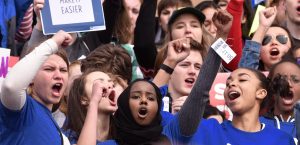 "How much longer do we have to deal with this shit?" she yelled, her voice welling with emotion.
The crowd roared its approval.
Many dried a tear.
Chants of "No More!" suddenly filled the air.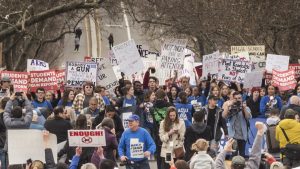 West High student Abena Bakenra, a senior in the school's vaunted International Baccalaureate program, did not mince words as she addressed Utah's politicians.
"Every time I enter a new room at class, I look to see if there's a place for me to hide, just in case anything happens," Bakenra said. "I'm sick of living in this fear of what may come next." 
"We are the future and we are no longer accepting thoughts and prayers, but only policy and action," she told the crowd. "We've had enough and we will no longer ignore the inaction of our lawmakers." 
While state lawmaker sightings were few and far between Saturday, former GOP legislator Chris Herrod made an appearance, but he did not stand with the reformers. Herrod threw his support behind a counter-demonstration organized by Utah Gun Exchange, a Sandy-based business that buys, sells and trades guns and ammunition.
An estimated crowd of 1,000 supporters joined the pro-Second Amendment rally, which was held on the opposite side of the Statehouse from where student demonstrators gathered.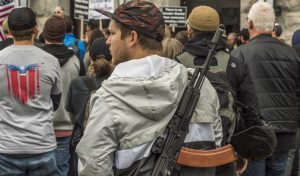 Several dozen of the gun rights advocates openly carried weapons, including pistols and military-style assault rifles. Others carried signs challenging reformers to try and take their guns away.
"There is no amount of infringement upon the 2nd amendment that will yield better results or cure evil," organizers said in a social media statement prior to the rally.
"Our way is the Constitutional way of defending our families in times of unforeseen crisis.
"We cannot allow an anti-2nd Amendment march in our State and on our streets without a powerful counter-message."