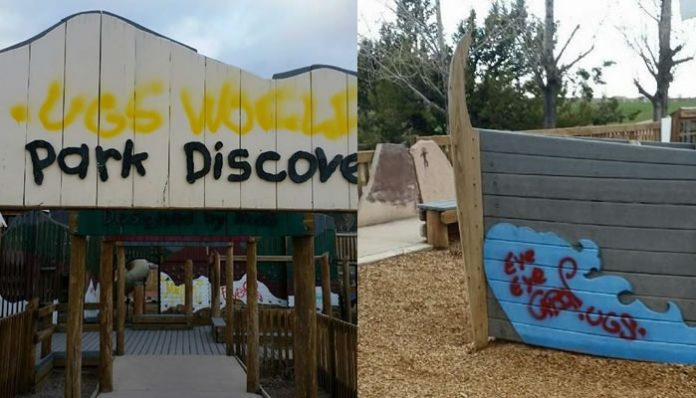 CEDAR CITY, Utah, April 20, 2016 (Gephardt Daily) — A third juvenile has been taken into custody after two other juveniles who caused $5,000 worth of damage to a Cedar City park by tagging more than 50 times were arrested last week.
The juveniles were booked into Youth Corrections on the charge of criminal mischief, a third degree felony.
A news release from the Cedar City Police Department said officers were summoned to Park Discovery at approximately 8:45 p.m. on April 15.
"The complainants stated they discovered the park had been spray painted in several areas," the statement said. "Officers investigated and found over 50 locations within the park where the suspects had spray painted on the toys, fences and signs. The damage was estimated to be $5,000.
"On Saturday, April 16, city officials decided to close the park indefinitely in order to address the needed repairs and cleanup caused by the vandals. The notice of the park closure was posted on the Cedar City Leisure Services Facebook page.
"The notice was seen by an employee of Wal-Mart who recalled selling paint to three juveniles on Friday. This employee provided the information to park officials who in turn provided the information to police.
Officers were able to take the information given and work with Wal-Mart personnel to obtain video and photos of the paint purchase. Believing the suspects were juveniles, officers were able to identify two of the suspects through school employees."
Officers interviewed the two juveniles and obtained statements and recovered evidence that lead to their arrest. The third suspect was also identified, and located soon after.