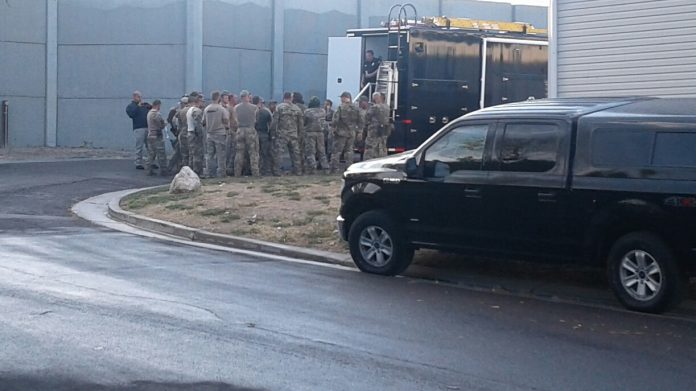 MIDVALE, Utah, Sept. 13, 2017 (Gephardt Daily) — Police are searching for a suspect after a SWAT team was called to a home in Midvale late Tuesday night.
Unified Police Department Lt. Brian Lohrke said the incident began at 11:30 p.m. when detectives from the Metro Gang Unit were given information that 38-year-old David Hendricks, an Adult Probation and Parole fugitive, was inside a home near 7539 S. 6th Ave.
"His history is things like assaults, thefts, fleeing from police," Lohrke said. "He has been armed in the past and in this situation we received information that he was armed again, so police officers were taking extreme caution when they approached the house that they believed he was in."
Police called out a SWAT team because of Hendricks' history, Lohrke said. The occupants of the home were ordered outside, but when SWAT got into the house Wednesday morning at approximately 7 a.m., they did a thorough sweep of the house and Hendricks was not inside.
"He is considered a fugitive and an armed fugitive, so we want to express extreme caution. Don't try and approach him, call police if you know or see him," Lohrke added. Lohrke said he's not sure what the crime was that led up to his AP&P violation.
Police believe that Hendricks is acquaintanced with the home or an occupant.
Police will be releasing his mugshot and description Wednesday morning.
Anyone who has information about Hendricks is asked to call the UPD on 801-743-7000.