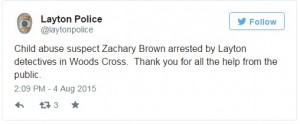 LAYTON, UTAH – August 4, 2015 – (Gephardt Daily)
A Utah man, wanted for allegedly choking his girlfriend's two-year-old son, is behind bars.
Zachary Brown, 29, was taken into custody in Woods Cross Monday by Layton police detectives.
Police had been looking for Brown since last Friday, when his girlfriend, a 30-year-old Layton woman, told police she had awakened to find him holding her two-year-old son in a choke hold.  "She walked downstairs and discovered Mr. Brown restraining the two-year-old child in an abusive way, and choking him by holding him up by his throat.  The woman immediately took her two children and left the home," Layton Police said.
The mother went to the Layton Police Department to report the incident and the child was taken to the Children's Justice Center and Primary Children's Medical Center for further examination.