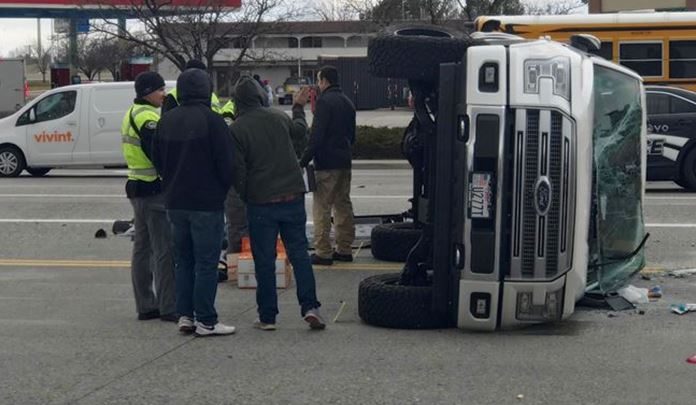 PROVO, Utah, March 14, 2019 (Gephardt Daily) — A 68-year-old man was transported to the hospital after a multi-vehicle chain reaction accident in Provo on Thursday.
The man, whose name has not been released, was in critical condition.
Sgt. Nisha King, Provo Police Department, explained the chain of events to Gephardt Daily at the scene, on University Avenue at 1860 South.
"This white truck here was traveling southbound in the turn lane, and a silver vehicle went to turn out of the Maverik parking lot," King said. "It struck the back of the truck, which kind of set it off balance, so as it started to roll, the actual truck struck the other tan vehicle. It kind of was a succession.
"So there is one male that was transported to the hospital that was in the tan vehicle," King said. "My understanding right now is that he has critical injuries."
A traffic investigation team was called out, she said, and was likely to be on scene well into the afternoon. The accident happened in the late morning.
King said there was no sign of impairment in the driver who turned out of the Maverik, initiating the accident.
"He was trying to cut corners," she said. "It's looking at this point like he was trying to turn northbound. He hit the truck and started the process."
He would have had to cross multiple lanes of southbound traffic to reach a northbound lane, she said.
University Avenue is a major road, and the investigation will impair normal traffic for hours, King said. She advised drivers seeking updates to check the department's Twitter feed. To see it, click here.
King urged drivers to think of others when driving.
"Take a little bit of extra time," she said. "It's not worth rushing and causing an accident."
View a short video of the scene below. Photographs can be seen below that.