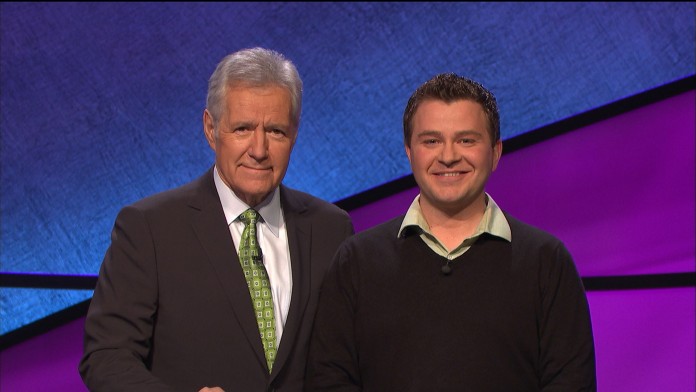 Answer: Who Is Utah Contestant Jacob Johnson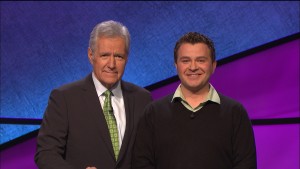 Question: This is the Salt Lake man appearing on "Jeopardy!" tonight on KJZZ at  6:30 p.m.
He comes from a family of actors, with his father Ron appearing in over 100 Hale Center Theatre shows in West Valley City. His mom is also an actor, who appeared on "Touched By An Angel." They both filmed a pilot with Keith Carradine that didn't get picked up. Jacob also has four brothers and three sisters; his youngest sister is an actress and is performing at Tuacahn this summer down in St. George. Jacob has been seen in shows around town and is a regular in "Saturday's Voyeur" at Salt Lake Acting Company.
Answer: Has Jacob always wanted to be on the show?
Question: Jacob, who is currently living in New York, said he has wanted to be on the show since he was a young child. "I've been watching the show since the 1980's, since Alex Trebek started hosting the modern version," he said. "This was the sixth or seventh time I've tried to get on the show. The first time I auditioned was in 1999 or 2000!" He said he was very surprised to finally get the call to be on the show. "Not because I didn't think I deserved to be on, but because of the length of time from when I auditioned. There is an online test every January that consists of 50 rapid-fire questions, then they email you if you do well to come to an in-person interview in a neighboring city; mine was in Las Vegas. Problem was, I almost missed the email! I took the online test in January, they sent an email in June, inviting me to Vegas for more testing, only it went to my junk email folder, so I didn't see it. The email said to reply within 48 hours to secure an interview spot. I saw the email FIVE DAYS LATE. SO I emailed them back anyway and said 'Sorry, I didn't see this until now, do you have any spots left to come to Vegas?' and they said they did, so I went down. They do another 50 question written test to make sure you're not a naughty, naughty cheater, then we played a mock game with Maggie and the crew. Maggie is the contestant handler and is HILARIOUS. She makes you feel at ease. Then they tell you you're in the contestant pool for 18 months and if you don't hear from them in that time, try again. I was gearing up to move to New York City and right before I did, they called and asked me to come film the show, so I was very surprised since it was seven or eight months after the in-person interview."
Answer: How would Jacob sum up the experience?
Question: "The experience was incredibly fast-paced," he said. "It all happens so fast. It was surreal being in that studio that I've seen so many times on television. I had been in the studio on previous auditions for the show, but nothing can truly prepare you to be on that stage, with that iconic theme music playing, and Alex Trebek right there, staring you in the face. You just hope you can be out there and not make yourself look like a total fool, because the game happens SO. FAST. You really have to be ready. It was just…..so fast."
Answer: Can Jacob tell us something we don't know about the program?
Question: Due to people having to travel long distances to Los Angeles to film the show, they film the episodes in a huge block. They asked me to come on a Tuesday and Wednesday. They film five episodes in a day, the order of the episodes in that day corresponding to the days of the week. So, if you see a multiple episode champion, it's very likely all their episodes were filmed in a day or two, back-to-back-to-back! That should tell you something about how good these players are at handling the pressure, as well as being very knowledgeable. The filming happens SOOOOOO fast, one episode after another. It's a lot to handle. But, it was incredibly fun. My only regret is I can never be on the show again. You get one shot, and that's it."