SALT LAKE CITY, Utah, August 2, 2023 (Gephardt Daily) — In the classic and beloved rom-com "The Holiday," (I watch it every Christmas), Eli Wallach, who plays feisty elderly screenwriter Arthur Abbott, explains to Iris, played by Kate Winslet, exactly what a meet-cute is after she gives him a ride home while they are temporary neighbors in Los Angeles.
"Well, this was some meet-cute," he observes. She doesn't know the term, so he provides an example: "It's how two characters meet in a movie. Say a man and a woman both need something to sleep in, and they both go to the same men's pajama department. And the man says to the salesman, 'I just need bottoms.' The woman says, 'I just need a top.' They look at each other, and that's the meet-cute." 
Being a massive rom-com fan, there's nothing I love more than a good meet-cute. Remember how in "The Notebook," Ryan Gosling's Noah literally leaps onto a ferris wheel to introduce himself to Allie, played by Rachel McAdams? In "Serendipity," John Cusack and Kate Beckinsale reach for the same pair of black cashmere gloves in Bloomingdales in New York at Christmas time, which leads to a 10-year search for each other. And in "Sleepless in Seattle," widower Tom Hanks and unhappily engaged Meg Ryan don't have their meet-cute until the END of the movie, when they lock eyes at the top of the Empire State Building on Valentine's Day thanks to his very adorable meddling son.
The purpose of the meet-cute is that the protagonists see each other for the first time, not knowing how important that person is going to become to them, and it gets us invested in their journey. And in Matthew Ivan Bennett's new summer play, "From June to August," which is billed on the first page of the script as "a rom-com in one act," there is a fabulous meet-cute; June, played by Brenda Hattingh Peatross, is leaving a communication in relationships class and walking to her car when she drops her car keys, then her phone. August, played by Josh Richardson, is following her to ask her on a date and when he tries to help her by picking up her phone, she sprays him with mace.
That encounter then sets the action in motion, and in a lean run time of just an hour, we are treated to all the lovely tropes that you see in the best rom-coms; June, who is newly divorced from a guy who cheated on her 11 times, has a sassy but devoted lesbian best friend, Harley, played by Tamara Howell. August, who is a shy, tender widower, also of course has a bestie that's macho but also sensitive; Hamer, played by Calbert Beck. There's the sweet but slightly clunky first date, the "let's go deeper" second date; there's even the classic falling in love montage where they visit an art gallery and stare meaningfully at a painting together! There's an adorable conversation about Eeyore! Then she sends him a "Princess Bride" GIF which leads to their first big argument, and… well, I'm not going to tell you any more, you'll have to attend to see how it ends. There are even references to classic rom-coms from "Roman Holiday" to "Love Actually," and a conversation at one point about rom-com characters rushing to the airport towards the end, usually in debatably reliable forms of transport, where they then manage to dodge security and leap the boarding gate while yelling "Stop the plane! Stop the plane!"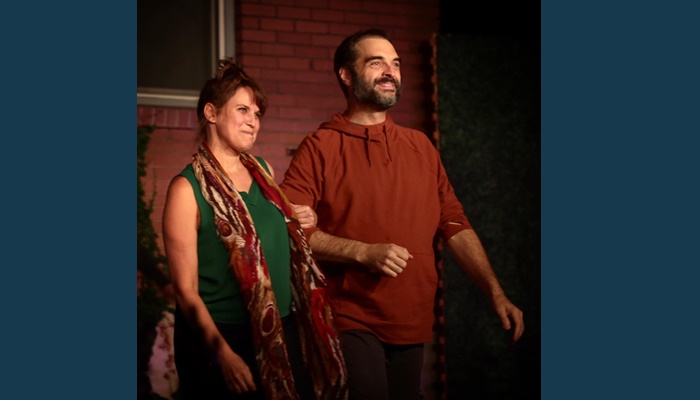 What Bennett has achieved masterfully with this piece is that he's written a classic rom-com, but with the brilliantly subtle dialogue he's known for as an author. The play, which even has a clever title with "June" and August" referring to the names of the main characters, clips along nicely with banter that fizzles and pops like Champagne bubbles, but with the richness and complexity of a glass of fine Macallan whiskey. Bennett also specifies that the four characters are around 50 years old and I have to say, it's nice to see a rom-com with protagonists that are entering their second act. June at one point says she's "hot-flashing and hangry," which is entirely relatable, and Hamer injures his knee while he and August are working out while also having a heart to heart about women.
The play is produced by Meanwhile Park, created by Salt Lake City art and theater lover Jeff Paris in 2021. Paris has created a playing space in his own backyard. The space is designed so audience members can gather before the production for an hour-long pre-performance celebration which includes complimentary drinks and snacks. Tickets are limited to 24 per performance and the idea is that you socialise with your fellow theatergoers before the play begins. "From June to August" is the first theater production from Meanwhile Park; it has hosted dance companies in the past, and nearly 60 plays were submitted to compete for the 2023 Meanwhile Park Playwright Prize. Tickets are $25 and 100% of that amount will go to support the playwright and the actors.
And the actors in this show are sublime. Director Jason Bowcutt, with associate director Holly Fowers, always brings out the best in his ensembles, and here, he has assembled the crème de la crème of Salt Lake talent. The script, direction and performances are so subtle and natural that you really forget you are watching a play; it just feels like a slice of life. The performances across the board are unfussy, but multilayered; all four hit every comic beat but also every moment that has more gravitas. The chemistry between Hattingh Peatross and Richardson is lovely, as is the rapport between the main characters and their best friends.
The production values are also top-notch. From the beginning to the end, the whole experience was pure class. My bubblegum-hued ticket to the show arrived by snail mail in a small black envelope in a larger regular envelope. Even before you enter the outdoor playing space, the path to the backyard is lit with pretty white lights and the ticket taker is stationed next to a merch table offering various very elegant Meanwhile Park merch. The logo of the company is written in metal letters on gray stone wall as you enter and the back of the house is lit up with subtle accents in shades of pink (the lighting design is by Salt Lake City tech whiz Lee Hollaar.) There are pretty blush coloured programs emblazoned with the "From June to August" logo, which is a can of mace encased in a white heart (graphic design is by Steve Hansen.) Heck, even the drink coasters are rose colored with hearts on! The pre-performance snacks come in a small wooden box, also emblazoned with the logo, and are provided by Elizabeth's Catering. The menus changes depending on the night and the snacks are quite delicious.
There is no set designer credited, and one is not really needed, as the back of the house, and the night sky, serves as the backdrop and the set pretty much consists of tables and chairs that are easily moved on and off. Hollaar's lighting though, with its dominant use of pinks that range from coral to fuchsia, makes everything look romantic and pretty. The costume design, by PJ Kelsch, is basic but works great. Oh, and before you ask, because this was something I wondered about; the company has informed the surrounding residents about their shenanigans; one person nearby actually called the police during the rehearsals due to the noises that came from the backyard during June and August's initial meet-cute. The neighbors, apparently, are just fine with the show going on and also came to see it.
It's hard to declare that a night at the theater was absolutely perfect, but gosh, this night came pretty close. The only bad news is that the production is totally sold out. There is a waiting list for shows on Thursday, Friday and Saturday of this week; to join that list you can email [email protected]. I do advise you though, to join the company's mailing list, and run, don't walk, whatever they do next. This reviewer is going back later this week on a date with her husband, as we've both been super busy lately. It's a surprise early birthday present for him. Now if that isn't the stuff of rom-coms, I don't know what is.