TAYLORSVILLE, Utah, March 24, 2023 (Gephardt Daily) — The first thing to know about "Melancholy Play" by Sarah Ruhl is that it is, in fact, an absurdist farce.
The second good thing to know about this particular production is that you are likely to laugh out loud, quite a lot. On opening night, it was almost as fun to watch the audience express their rather unbridled joy as it was to watch the wonderful, off-beat shenanigans unfolding on stage.
Wasatch Theatre Company is continuing its 25th season with the play that first premiered in 2002 when Ruhl was just 28. Ruhl's later play, "In the Next Room, (or The Vibrator Play)," was a Pulitzer finalist in 2010 and a Tony Award nominee for Best Play, and she has also been awarded a MacArthur Fellowship. Her plays have been performed both on and off-Broadway, and often by the more adventurous theater companies here in Utah.
The show is playing for six performances only at at the 200-seat Studio 5400 black box theater at Mid-Valley Performing Arts Center, located at 2525 Taylorsville Blvd., which is a gorgeous new county-run space. It opened Thursday night and there are shows Friday, Saturday and Sunday at 7:30 p.m. with Saturday and Sunday matinees at 2 p.m.
"Melancholy Play: A Contemporary Farce" tells the story of Tilly (Ariana Farber), a bank teller who, with her therapist, who is also in love with her, is exploring her feelings of melancholy.
"Cheerful people are the worst sort of people," she tells Lorenzo. "They make noise when they smile," baring teeth that "have little bells between the cracks." Everyone around Tilly seems to be happy, and her bright-eyed woe makes them all fall head-over-heels in love with her. That includes earnest tailor Frank (Amona Faaatau), psychiatrist from an unspecified part of Europe Lorenzo (Barrett Ogden) and lesbian couple physicist-turned-hairdresser Frances (Sam Torres) and British nurse Joan (Ashley Wilkinson).
Their happiness is contagious to Tilly, and she starts to change. But as she gets more cheerful, it seems that those who are infatuated with her become increasingly gloomy, which of course is an exploration of the idea that unhappy people are somehow more enticing, because they make us feel a little smug, and better about ourselves. Tilly's melancholy gives her a certain nobility and depth.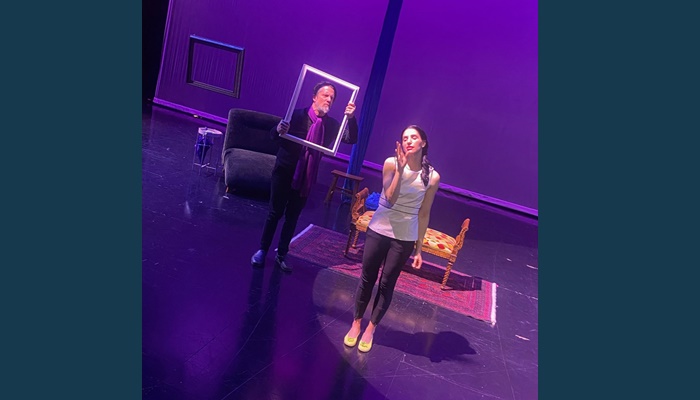 The success of the show really depends on the ability of both the director (Morag Shepherd) and the performers to seamlessly navigate the sometimes quite abrupt twists and turns that take us from realism to melodrama and back again. The key here is that by the time the play slips and slides more and more into surrealism (one of the characters turns into an almond) we have become sufficiently invested in these characters that we are eager to take this weird and wild journey with them. In this production, this worked beautifully.
The actors, too, have an absolutely solid grasp on the material; Farber sets the tone, creating a Tilly that seems to revel in her sexy-sadness, wide-eyed and a little joyful at the way it is affecting other characters (she plays the role as if she's the love child of Sylvia Plath and Marilyn Monroe). In fact, when she realizes she is happy, she seems almost aggravated, as if her desolation was her most interesting characteristic and she doesn't quite know what to do without it. Farber and the other actors are absolutely skillful at energizing the characters and keeping them crisp, witty and motivated throughout.
You can really tell that the actors were encouraged to play and create freely in rehearsals; the movement has a quirky, weird, whimsical quality to it that seems absolutely spontaneous, almost improvised in the moment. Shepherd uses various visually lovely stage pictures such as having one of the characters climb high above the stage on an aerial silk, while others place themselves inside the empty picture frames that are both hanging above and laying on the stage. She also has characters snap open umbrellas at various points, suddenly and without obvious meaning.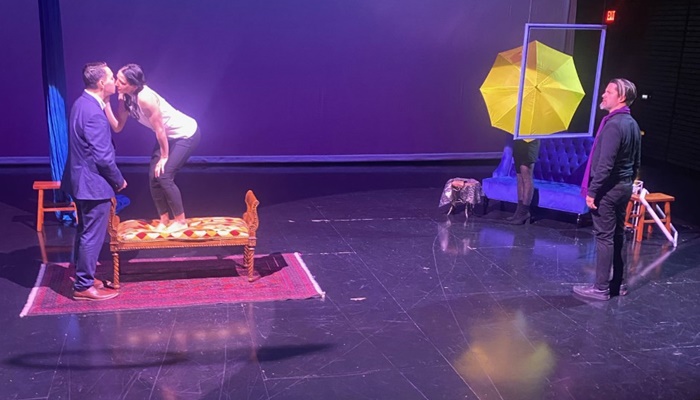 It can also be tricky with a show like this to communicate to the audience that they are allowed to laugh; when a play has strong nonsensical elements it's also easy to treat it in a sort of sacred and reverential way, and in this case that license to enjoy was given established immediately and continued throughout.
Back in 2002, interestingly, the play was not a musical, but included merely some bowing of a cello. In 2012, Ruhl debuted this new musical version of the piece, complete with a score from Todd Almond (no direct relation to the almonds in the show, I presume). Cellist Alexandra Call, who plays live on stage, adds depth and dimension to the piece.
The production values are simple and sound, and with a play that even with the run time of just 80 minutes, is very dense, that is welcome. As I mentioned, the set mainly consists of hanging empty picture frames with three sofa/love seats, one upstage right, one left, and one in the center. Shepherd uses the space well; her characters lurk on the sofas, sit in the audience and at times appear on a raised gantry. This has the effect of allowing the action to fluidly and believably move to different locations. The lighting too, by Riley Merrill, is straightforward, but with standout moments such as a striking orange wash when Torres is hanging on the aerial silk.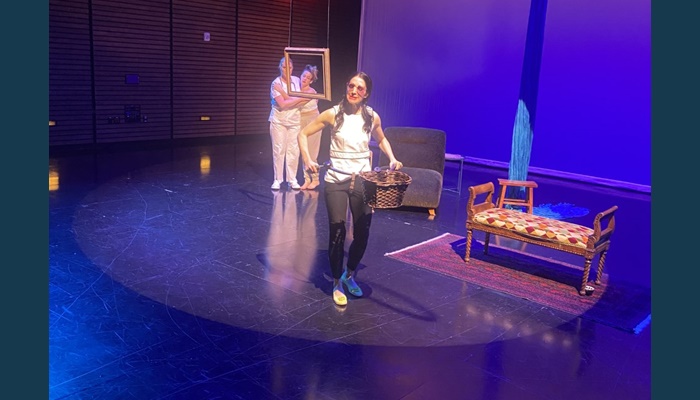 There is no costume designer listed in the program; the costumes are absolutely uncomplicated, but with a little flair to suggest each individual; a royal purple scarf for Lorenzo, for example, and a white hat with a red cross and a stethoscope for Joan.
As I mentioned, "Melancholy Play" only runs until Sunday; I highly recommend the show. I personally felt oddly uplifted leaving the theater… maybe even happy.
For tickets to the show, click here.