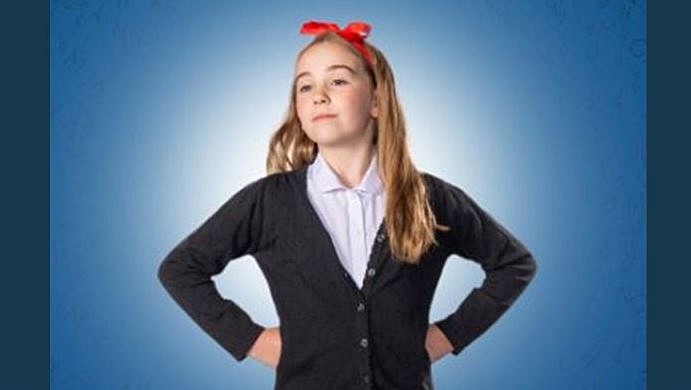 OGDEN, Utah, Aug. 22, 2019 (Gephardt Daily) — One of the signature songs of the musical "Matilda: The Musical" is "Revolting Children," but the musical comedy is actually a fine balance between children staging a revolt and adults behaving in revolting ways.
The production of Ogden's Ziegfeld Theater has struck the balance perfectly between the two, offering several adult characters deftly portrayed as so garish or ridiculously or otherwise over the top that it only makes the children in their world seem totally justified in their "bad" behavior.
The 2013 Broadway musical, of course, is based on the 1988 book by Roald Dahl, who mixed silliness and sensibility with a dash of the supernatural. The play is by Dennis Kelly, with music and lyrics by Tim Minchin.
So the story is familiar to many, and if you are lucky, you may have even seen the stage version once or twice. What makes the biggest difference between shows is the talents of key actors and the creativity of the production design.
And the Zig's "Matilda," directed by the wonderful Morgan Parry, has just about everything going for it.
Matilda, a young and unexpectedly gifted girl who is starting school, is played by Pippa Parry and Victoria Bingham on different nights. Parry played the role on the night reviewed, and did an expert job portraying her character's emotions in a way that showed the audience Matilda's every motivation and what was going on in her heart.
The role puts a lot of pressure on a young performer, and it's common to see a child actor go a bit "robotic" in trying to remember all the lines in the right order. It's a rare child actor who can make an audience believe in the character, and Parry does it masterfully.
And Bingham is the veteran of a Broadway national tour, so she's got proven acting chops as well.
The show's biggest villain, among a few, is the school's manly headmistress Miss Trunchbull, played by Ziegfeld veteran Quinn Kapetanov.
Trunchbull is a shrieking, foul-tempered former athlete who threatens students and demands complete compliance with both her rules and whims. Kapetanov — in a military-inspired skirt suit, shoulder pads, and his character's trademark chin mole and unibrow — nails it.
Matilda's insensitive and insulting parents, Mr. and Mrs. Wormwood, played by Eb Madson and Becky Knowles, are even more loud than their clothing, which is really saying something. (Great costumes, Alicia Kondrick.)
And in the role of the sweet and supportive Miss Honey, herself a victim of bullying, is Natalie Peterson. She adds balance and hope to the show.
The youth ensemble in this production is especially strong as well, with many young actors having studied at the Ziegfeld Arts Academy.
The Zig's stage is small, which, as always, adds a wonderful intimacy to the production. Dance numbers by choreographer Kayee Neff also benefit from the crowding, since some moves are angular and jagged, and become even more dangerous looking when performed in close quarters. Sets, by Caleb Parry, are creative, innovative and multi-purpose.
Other than a few brief instances of muffled audio, this production of "Matilda" was pure delight.
And through Aug. 31, you can still see it at its home theater. After that, the show moves to Park City's Egyptian Theatre, where it runs Sept. 6 through 15. For more information or tickets on the Ogden show, click here. For the Park City run, click here.