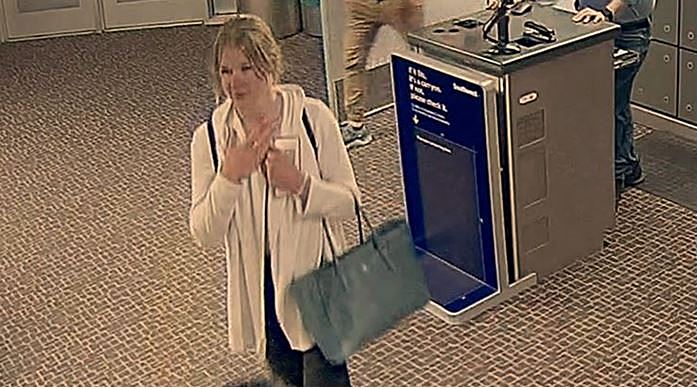 Murder charges filed. For an updated story, click here.
SALT LAKE CITY, Utah, June 25, 2019 (Gephardt Daily) — Salt Lake City Police officials have shared images from the last known recording of MacKenzie Lueck, a University of Utah student now missing for nine days.
The still images are from surveillance footage from the Salt Lake International Airport, where 23-year-old Lueck landed at 1:35 a.m. on Monday, June 17.
Police say Lueck called her family to confirm her safe landing. She ordered a Lyft, and asked for a ride to North Salt Lake's Hatch Park, her driver said.
Her driver said he dropped her off at the park, minutes before 3 a.m., and Lueck reportedly met someone who was waiting to welcome her into a car.
The Lyft driver said he did not notice Lueck appearing to have any apprehensions about getting into the car.
Police confirmed Tuesday that they don't have a good description or image of the car, and do not know if the driver was male or female.
The Lyft driver then continued with his rider pickup schedule, which has been confirmed by officials. Police have said his story checks out, and he is not considered a suspect in Lueck's disappearance.
Since then, Lueck has not been seen by close friends or family. She missed a midterm, then a flight to Los Angeles to see her family again.
SLCPD Assistant Chief Tim Doubt said Lueck is an adult, and can certainly disappear or "go off the grid" if she so chooses. Officers would just like to confirm she is safe and left of her own volition, and is not in need of police assistance.
Lueck's phone and social media accounts have not been used, and Doubt also asked for any information anyone may have about an alternate phone or social media accounts Lueck could be using.
Lueck said police also are focused on any dating apps Lueck may be involved with. Social media postings, unconfirmed by police, include the suggestion that Lueck is involved with the Sugardaddies.com website, and may accept dates through that.
Doubt would not answer reporter questions about specific social media accounts or apps that could be connected to Lueck's disappearance, but did confirm detectives were looking into the social media aspect of her life.
One online post suggested that among Lueck's alternate Instagram accounts is Novababy96, which shows a woman from the back, wearing underwear or a swimsuit bottom that says "Daddy."
That account is private, so its ownership cannot be confirmed, but the main page does say the account is followed by a Kenzie Lueck, the name on Lueck's main Instagram account.
Lueck's family and friends say disappearing like this is very out of character for her, which is why they are concerned for her safety.
Doubt said that police have had three minor encounters with Lueck over the years. There was a moving violation in 2015, an assault about a year ago, and a missing property call about six months ago.
"There is no indication any of this is connected with her disappearance," he said, adding that all three cases had been resolved.
Doubt also said that police have no evidence of foul play in Lueck's disappearance, so daily news conferences will be discontinued, although any break in the case would warrant a news conference of statement.
A friend of Lueck's spoke for the missing woman's family at the end of the news conference, and asked that any tips in the case be sent to the Salt Lake City Police Department, not to family members.
The police tip line in the case is 801-799-4420. Doubt said that more than 125 tips have been received so far, and police are finding many of them helpful.