BRUSSELS, Belgium, March 25, 2016 (Gephardt Daily) — Mason Wells, one of four LDS missionaries caught in the terrorist bomb blast in an airport in Brussels on Tuesday, is speaking from his hospital bed about his experience, his burn injuries, and the faith that has comforted him throughout the ordeal.
Wells, 19 and from Sandy, told Associated Press he was one of three Utahn missionaries caught in the explosions.They were serving in the France-P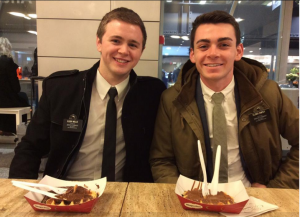 Paris Mission of the Church of Jesus Christ of Latter-day Saints, and had dropped a French fellow missionary, Fanny Rachel Clain, at the airport.
"The blast was really loud," Wells said from his hospital bed, shown in a video posted to YouTube. "It even lifted my body a little bit. And I remember feeling a lot of really hot and cold feelings on the right side of my body. I was covered in a fair amount of blood, not necessarily my own."
Wells's head is wrapped in bandages and an elastic netting to compress his burns in the video. He speaks calmly, but emotions break through his reserve at several points during the 2:39 video. Wells also talks about feeling the presence of God with him immediately after the second blast.
"I was sitting there on the sidewalk outside the airport, sitting in my own blood, and there was a feeling of calm and peace that I had, and it was beyond just the physical shock that I had," Wells said, in the video. "I attribute that to the presence of God."
The other two Utah missionaries hurt in the blast were Elder Richard Norby, 66, from Lehi, and Elder Joseph Empey, 20, of Santa Clara. Clain, who was in another part of the airport, was also hurt.
To see the full video of Wells' talking from his hospital bed, click on the link above.