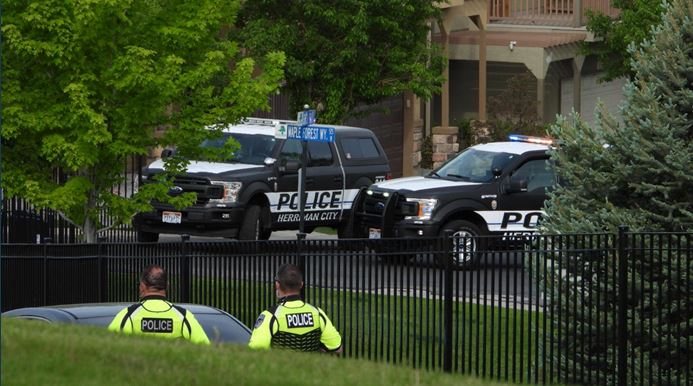 SOUTH JORDAN, Utah, May 14, 2020 (Gephardt Daily) — A lock down order for a South Jordan neighborhood has been lifted after an armed man who had fled police earlier in the day surrendered to SWAT officers.
The neighborhood was put on lockdown Thursday morning after a seemingly routine suspicious vehicle call resulted in the armed man fleeing from police in a stolen car.
The suspect abandoned the car in the parking lot of a South Jordan Walmart, at 11328 S. Jordan Gateway, and fled into a surrounding neighborhood, Lt. Matt Pennington, SJPD, told reporters at the scene.
"When we showed up on scene was we had a male suspect flee from us. We went in pursuit of him," Pennington said. "Pretty quickly, we realized he had a gun with him, so that ramped up our response.
"As he continued to flee into the neighborhood here, that heightens things for us. Obviously, that's a danger to the public, so we put out some reverse 911 calls."
The man, who was not from the neighborhood, was taken into custody in the backyard of a residence which had been evacuated as the SWAT team closed in.
The suspect, who name has yet to be released, was taken into custody without incident.