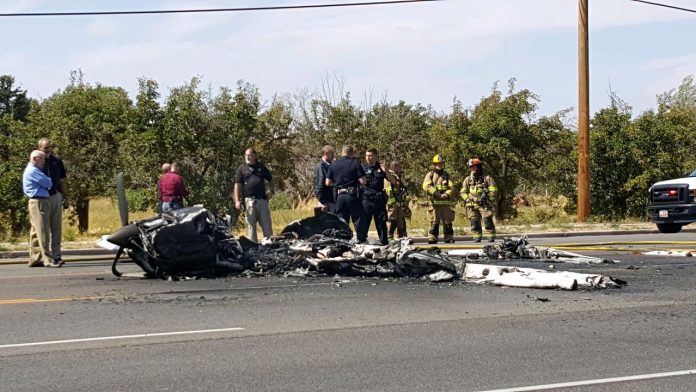 ROY, Utah, Sept. 12, 2017 (Gephardt Daily) — A small plane crashed Tuesday afternoon onto Roy's busiest road, and collided with a sedan driving on the roadway.
Both the 63-year-old man piloting the craft and the 42-year-old female driver alone in the black sedan were able to walk away from the crash, and were transported to a local hospital only as a precaution, said Sgt. Matthew Gwynn, Roy City Police Department.
"It's a violent scene, but everyone is OK," he said.
At about 1:38 p.m., police were called to the scene, on 1900 West and about 4500 South, just southwest of the Ogden-Hinckley Airport. Both the plane and the car came to rest facing south.
"When they arrived on scene, they did find a single-engine aircraft was on fire in the middle of the road, and they also found one vehicle that had been struck by the plane," Gwynn said.
"There was one pilot on board. He was removed from the plane … He did have to get help getting out of the plane, but he was talking to our investigators, talking to our paramedics."
Gwynn said he was not sure who had helped the pilot exit the plane. According to reports, he made it out before the craft caught fire.
The car driver was able to get herself out of her vehicle, "and she was also up and walking around," Gwynn said. "Usually in a case like this, you would expect someone to be injured," he said. "We're happy that that is not the case today."
FAA investigators confirm the pilot was attempting an emergency landing at the time of the crash.
Gwynn said the accident could have been much worse, and could have involved more people on the ground.
"This road is busy all day, and typically in the afternoon, it gets busier with people coming to and from lunch," he said.
Roy police have closed 1900 South from 4400 to 4800 West. Wynn said the road would be closed for several hours, but did not have an estimated time of when it would reopen.
This accident comes about a month and a half after a July 26 accident in which a small plane leaving the same airport crashed onto Interstate 15, killing all four on board but injuring no one on the ground.
Gephardt Daily will have more information on Tuesday's crash as it becomes available.