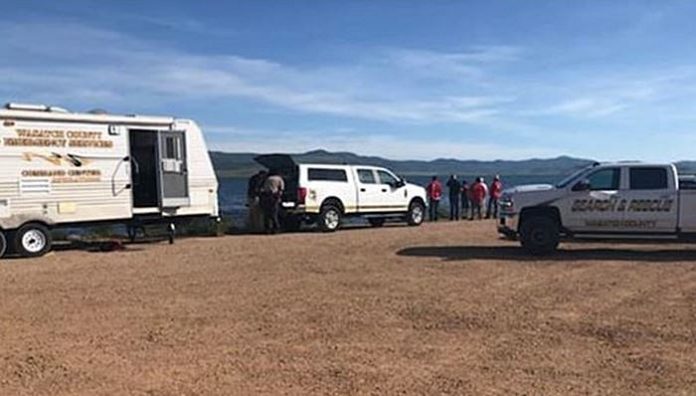 For an updated story, click here.
WASATCH COUNTY, Utah, July 19, 2019 (Gephardt Daily) — Search crews using sonar to look for signs of people or objects in the Strawberry Reservoir, where two fishermen brothers were last seen on Thursday, believe they have detected something in the water.
Wasatch County Sheriff Jared Rigby declined to say at a Friday afternoon media briefing what he suspects the objects to be, but stated that crews are focusing on finding bodies or belongings that may have been associated with the fishermen.
"Dogs that search for people have been out on water, and have given us a few things to verify also," Rigby said.
The missing men are brothers, ages 61 and 70. They had gone fishing Thursday, and have not been seen since. Their boat, idling with no one aboard, was reported to safety officials after 2 p.m., and the search began.
Rigby explained that regular sonar and side scan sonar have been used on Friday. After objects are detected, technology called Rovers are sent for a closer inspection. Sonar cannot produce a clear image, and the margin of error is worse at greater depths, he said. The images are inexact, and require verification by other means.
Divers have not yet been deployed, Rigby said, but may still be once more information can be collected.
Multiple members of the brothers' family have been on site since yesterday afternoon, Rigby said. They've offered useful information, including the usual route the men take while fishing, among other things.
Rigby said the family has also been out on the water with searchers. He has spoken with family members regarding hopes and realities, he said.
"We love it when hope and realities are the same path, and they get both," he said. "It's very, very difficult, more difficult than I could ever explain, and yet they are strong. I admire them. They're doing very well."