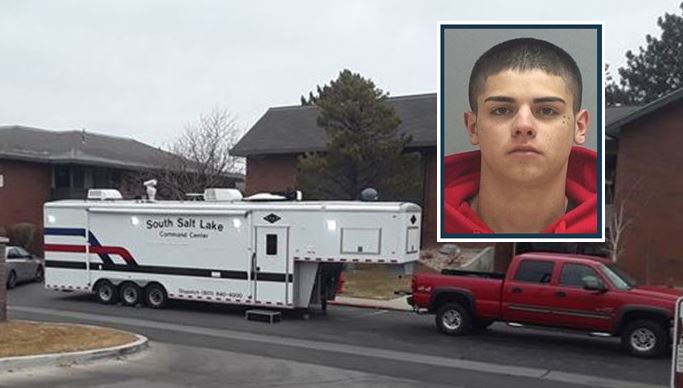 SOUTH SALT LAKE, Utah, Feb. 21, 2019 (Gephardt Daily) — Formal charges were filed Thursday against a man accused of killing his girlfriend last month after a domestic dispute.
Angelo Terry Kirstine, who turned 25 on Wednesday, has been charged with murder, a first-degree felony; and purchase/transfer/possession or use of a dangerous weapon by a restricted person, a third-degree felony.
The formal charges came after evidence was screened by the Salt Lake County District Attorney's Office. Kirstine is being held on $1,000,007 bail.
Kirstine is charged in the Jan. 15, 2019 stabbing death of 26-year-old Ashley Vigil.
"The deceased appeared to have suffered puncture wounds to her throat that likely caused her death," the probable cause statement says.
Kirstine called a family member at about 12:40 a.m. and requested a ride, the statement says.
"The A/P told family members the deceased victim was going to stay at the apartment while he was going to leave to go to a relatives home."
Kirstine's grandmother and other family members drove the suspect to the University of Utah Hospital, seeking help for his reported mental issues, Keller said.
Kirstine or one of his family members told the University of Utah Hospital staff that someone had been hurt, and needed to be checked on, Keller said. University police held Kirstine for SLCPD pickup, and he was not checked into the hospital.
Keller said that Kirstine's grandfather, who lives elsewhere, went to the apartment shared by Kirstine and some other family members, and he found the victim's body.
The grandfather alerted police at 12:58 a.m., and investigators responded to the residence at Eight20 Apartments, at 820 W. Timbercreek Way (about 3900 South).
The dead woman, who had been in a relationship with Kirstine for "several years," the  statement says, "appeared to have suffered puncture wounds to her throat that likely caused her death. The A/P was the only person home at the time the victim was found in the apartment."
Kirstine was found to have blood on his shoes and clothes at the time of his arrest, and had "what appeared to be fresh scratch marks on his torso," the probable cause statement says. "It appeared the A/P had been involved in a recent physical confrontation."
"The A/P was reported to have suffered from mental health related disorders and had violent tendencies as a result of those mental health related issues," the statement says. "The A/P invoked his right to an attorney during an interview."