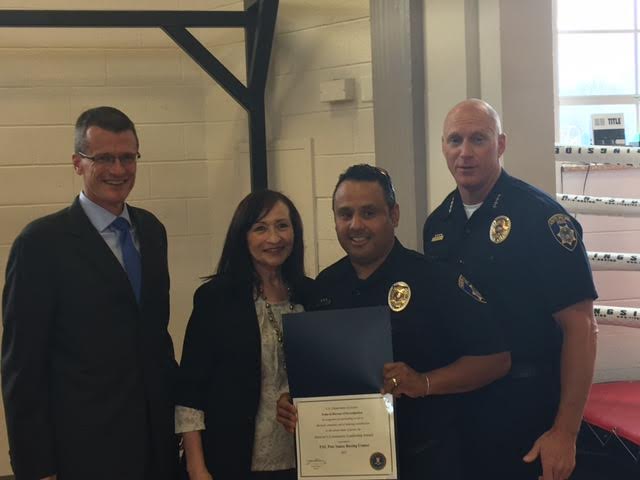 SOUTH SALT LAKE, Utah, April 7, 2016 (Gephardt Daily) — The South Salt Lake Police Athletics and Activities League (PAL) has been awarded the 2015 FBI Directors Community Leadership Award for a youth mentoring program designed to reduce juvenile crime throughout their city.
SSL Police Chief Jack Carruth said the department and Mayor Cherie Wood share a vision for every neighborhood to be safe and clean.
"That is part of this mission, and we used the philosophy behind the PAL program to create that vision and to bring safety and education to our youth," Carruth said.
"We have seen great success here from kids who may not have even graduated from high school who go on to do good things."
Wood said she is proud of the youth of her community, and grateful for the police department's innovative approach to reducing crime in South Salt Lake.
"It's easy for me to come in and say this is my vision for the community, for us to have every child to go to college and graduate and have a safe and clean neighborhood and be healthy and prosper," Wood said. "But, it takes everyone from every corner of this city believing in something and knowing the youth really deserves something better."
The award was presented to SSL PAL director officer Jerry Silva by Eric Barnhart, the director of the FBI Salt Lake City Division.
"Everyone has a part and play in this dream I have had since I started policing in 1997," Silva said. "There are so many people I could thank, but it would take all day. This is for all of us—everyone here and everyone in the city."
Barnhart said law enforcement programs do not generally qualify for this award, but because this one was so special they made the exception.
"The award was established in 1990 and 56 different field offices from around the country receive submissions for youth-based programs that are helping to decrease crime and bring positivity to their cities," Barnhart said.
South Salt Lake is the only city in the state that serves its youth through a police athletic program. Both Silva and Carruth will travel to Washington, D.C. on April 15, to be presented the award by FBI director James B. Comey, as will the other 56 recipients.