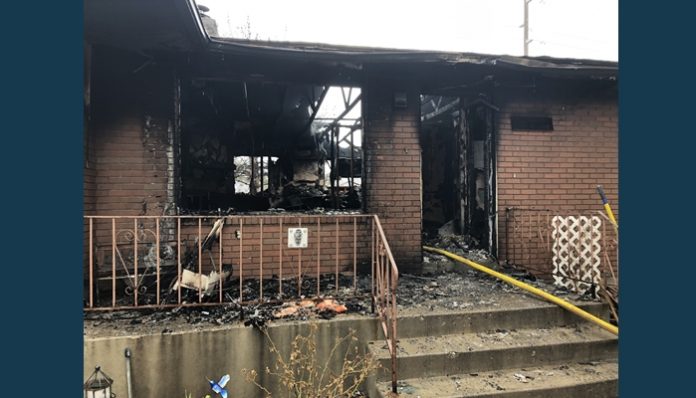 SPANISH FORK, Utah, March 7, 2019 (Gephardt Daily) — A Spanish Fork home is a total loss after a fire in which one cat and four rats died Thursday morning.
A second cat who was inside the home at 789 S. 1240 East remains unaccounted for, Spanish Fork Police Lt. Brandon Anderson told Gephardt Daily.
Anderson said the female homeowner left her house around 7:10 a.m. and when she returned just before 10:30 a.m., she opened the front door to find "heavy, heavy smoke." She then went to the back of the house and opened the back door, to the kitchen, where there was more heavy smoke as well as flames.
Police, fire and EMS crews arrived at the now fully-involved fire at 10:37 a.m.
Crews then went into defensive attack mode, Anderson said, and were able to get the blaze under control.
The woman advised that there were two pet cats in the house and four rats in a pen that were being used for a school project. One of the cats was found deceased in the basement of the house, probably from smoke inhalation, Anderson said. The other cat is still outstanding. The four rats also died.
There were no people in the home at the time of the fire.
The home is a total loss, with damages totaling around $300,000, Anderson said.
The cause of the fire is under investigation. At this time, it's not clear where the blaze started.
Spanish Fork was joined by Mapleton City and Salem City in battling the fire.
Gephardt Daily will have more on this developing story as information is made available.