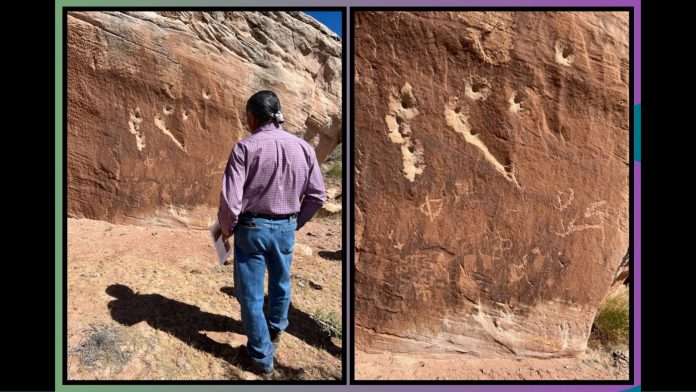 BEARS EARS NATIONAL MONUMENT, Utah, May 26, 2022 (Gephardt Daily) — Tribal leaders say recent vandalism in the Bears Ears region is "a desecration of the ancestors" and demonstrates an "urgent need to protect our ancestral homelands."
The Bears Ears Inter-Tribal Coalition shared photos of the "senseless acts of vandalism" in a series of tweets Thursday.
Photos of the vandalism show Hank Stevens, who represents the Navajo Nation on the coalition, inspecting damage to rock formations in the Bears Ears region.
"(Bears Ears) is home to the dwellings of our ancestors, the final resting places of our people, and a sacred area where we still collect traditional herbs and medicines," the coalition continues. "It is a living landscape that is a part of our people. These malicious acts exacerbate the harms already done.
"We usually don't share examples of desecrations of our sacred places because it can be painful for Native people who have cultural ties to them. However, this recent act of vandalism, while very painful, highlights the urgency to protect our ancestral homelands," the tweet concludes.
The Bears Ears Inter-Tribal Coalition consists of leaders from the Hopi Tribe, Navajo Nation, Ute Mountain Ute Tribe, Pueblo of Zuni, and Ute Indian Tribe. The coalition was formed in July 2015 to ensure the area is managed "with the greatest environmental sensitivity," according its website.