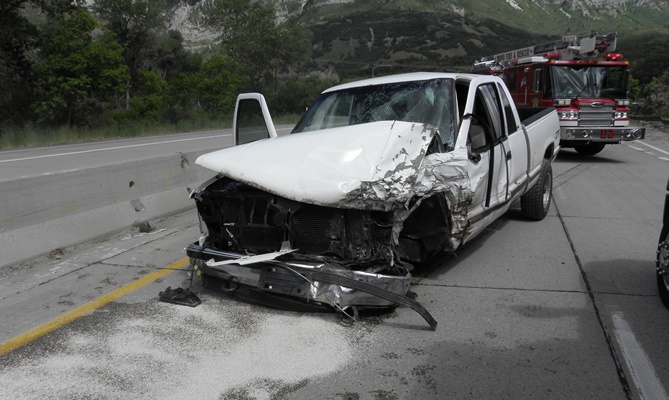 PROVO, Utah, June 30, 2019 (Gephardt Daily) — A drowsy driver in a pickup truck crashed into three other vehicles Saturday afternoon on State Route 189, the Utah Highway Patrol said in a news release.
The multiple collisions began at about 3:15 p.m. as a white pickup truck was heading west on SR-189, going down Provo Canyon near milepost 10, the news release says.
The driver fell asleep and missed a curve in the road, causing the pickup to drift across the center line into oncoming traffic.
The pickup struck a gold Toyota in the left rear corner, and the pickup lost its front left tire from the impact.
At that point, the driver of the pickup woke up, swerved right, and hit a black Honda in the right rear corner. The driver then swerved back to the left and hit a brown Dodge, which overturned.
"The pickup then hit the guardrail on the right shoulder of the eastbound lanes, went back across the eastbound lanes and struck the concrete barrier in the center median," the release says.
The driver of the pickup had minor injuries.
The gold Toyota's driver was transported to Timpanogos Hospital, and the driver and passenger of the black Honda were transported to Utah Valley Regional Medical Center, all with minor injuries.
The driver and passenger of the Dodge had "minor cuts and bumps and refused transport," the news release says.
SR-189 eastbound was closed for a short time while the vehicles were moved out of the travel lanes.
It doesn't appear that any of the drivers were impaired, UHP said, "However, this crash clearly shows just how dangerous driving drowsy can be."