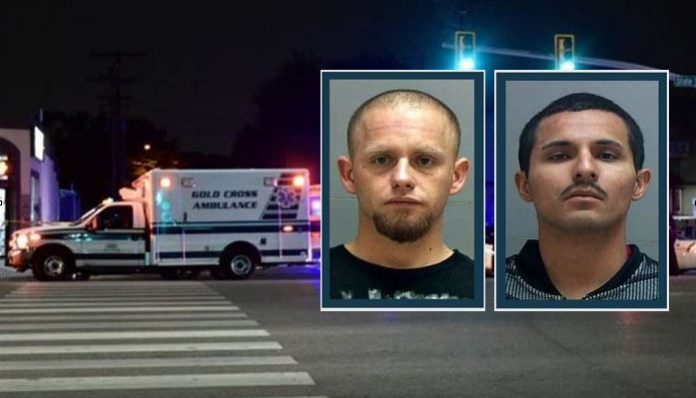 SALT LAKE CITY, Utah, Aug. 28, 2018 (Gephardt Daily) — Police have arrested a second suspect in connection with the early Monday stabbing death of 16-year-old Marcelino Johnson in Salt Lake City.
Nicolas Nazario Espana, 28, has been arrested and transported to the Salt Lake County Jail, Salt Lake City Police Department Detective Robert Ungricht told Gephardt Daily. Espana, who was initially declared as a person of interest Tuesday, is facing charges of criminal homicide and obstruction of justice, Ungricht said.
Ungricht said it's not yet clear where Espana was arrested, but he was taken into custody without incident.
Late Tuesday afternoon, officers located the first suspect, Enrique Deloza, 28, in the area of 1050 S. Main St., Salt Lake City Police officials told Gephardt Daily Tuesday night. Deloza is facing a charge of criminal homicide.
Ungricht said detectives were able to identify both Deloza and Espana from surveillance video and witness accounts.
He added that it's not clear at this stage whether Deloza, or Espana, or both, wielded the knife that was used in the homicide.
"I don't have the details of what happened with the weapon in this case, I just know that the suspect was taken into custody today," Ungricht said.
Ungricht said a verbal altercation between two groups began in the area of 1300 South between Main and State streets in the early hours of Monday morning. The victim was with at least one other male and two females.
"That argument then spilled over onto Kensington Avenue just west of State Street, that's when some sort of physical altercation ensued between the parties," Ungricht said.
The report of the stabbing on Kensington Avenue between State and Major streets was called in at about 1:12 a.m. Monday.
Johnson was stabbed in the lower torso. He was transported to the hospital in extremely critical condition, but died during surgery.
Ungricht said it's not clear at this early stage what the relationship is between the two suspects. Deloza only arrived in Utah over the past week to find a job, and has ties to Nevada and California, officials said, but no criminal history in Utah. Espana has a criminal history in Utah and Nevada.
Gephardt Daily will have more on this developing story as information is made available.