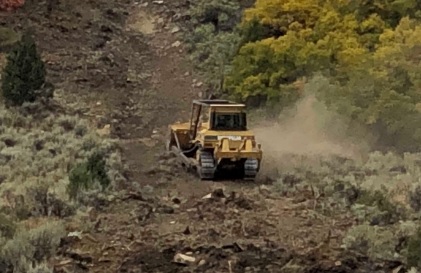 UTAH COUNTY, Utah, Oct. 3, 2018 (Gephardt Daily) — The Bald Mountain Fire in Utah County is now 100 percent contained, officials said Wednesday.
The fire has burned a total of 18,620 acres, according to the InciWeb website.
"Suppression repair is the primary focus of activities on the Bald Mountain Fire," an update on the website said.
"These activities seek to mitigate resource concerns caused by fire line construction and the use of roads to access the fire. As much as possible, fire and land managers want to restore the roads and areas where fire lines were constructed to pre-fire conditions. This work is specifically designed to minimize sediment delivery into streams and rivers and minimize gully and surface erosion."
Approximately 38 miles of suppression repair have been completed, including 20 miles of dozer line and 10 miles of handline.
The Pole Creek Fire, which is burning alongside the Bald Mountain Fire, has burned 102,231 acres as of Wednesday and is now 87 percent contained.
"The fire activity yesterday was minimal," the update said. "Crews and helicopters worked on direct line in the Covered Bridge Area and east of Spanish Fork Peak. Like the Bald Mountain fire, suppression repair continues over the fire area. As of yesterday 101.5 miles of repair were completed, including 67 miles of dozer line and 18 miles of hand line."
The Pole Creek Fire started on Sept. 6 and the Bald Mountain Fire on Aug. 24; both fires were caused by lightning. The Pole Creek Fire expected to be contained by Oct. 10.
Gephardt Daily will have more on this developing story as information is made available.