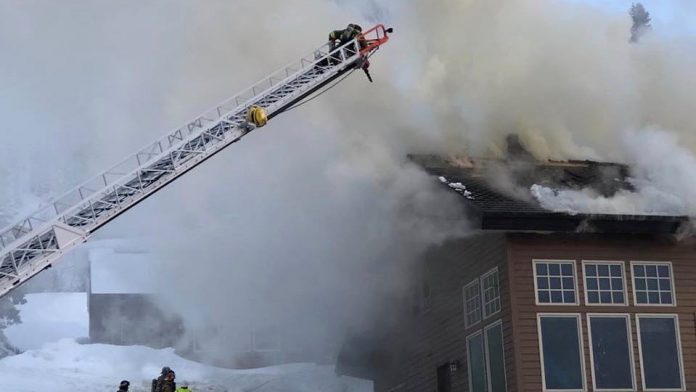 ALTA, Utah, Feb. 17, 2019 (Gephardt Daily) — Crews from the Unified Fire Authority worked throughout the night in an effort to extinguish a stubborn apartment fire burning in Alta since 4:02 p.m. Saturday.
As of 3:48 a.m., Sunday, flames were once again shooting through the roof of the complex as fire crews battled flames, deep snow and single digit temperatures.
Keith Garner, UFA spokesman said at 6 p.m. the fire was still burning due to a continued natural gas supply. Utility crews were on scene, attempting to turn off the gas, but the complex's major gas line was in the attic.
"It's still active within the attic," he said of the fire.
Arriving crews "are having a tough time dealing with really deep snow," he added. "We're about an hour and a half into the fire, and Dominion is just now getting it (the gas supply) turned off."
By 6:30 p.m. firefighters thought they had the upper hand, but the stubborn flames lingered throughout the night and into the early morning hours.
The building contains four apartments. A father and son who smelled the gas in the attic were able to get out before the explosion, Garner said. No injuries have been reported.
Crews had to "stop putting water on it" as crews entered the building to deal with the gas line, Garner said, because fire hoses put out about 100 gallons per minute, which could cause injuries to anyone hit.
The Unified Fire authorities later posted the following on social media:
"Attic fires pose many hazards for the fire service. When a fire occurs in an attic, it often will go unnoticed until smoke or flames are visible from the outside of the structure. A fire in the attic may involve insulation and wood structural members as well as a variety of stored belongings.
"Currently crews are working in sub freezing temps and a large snow load, making fire ground operations difficult."
The post also noted "the structure has a high collapse potential."
Temperatures at Alta hovered around 8 degrees overnight with steady winds of 6 mph.
Gephardt Daily will update the story as more information becomes available.