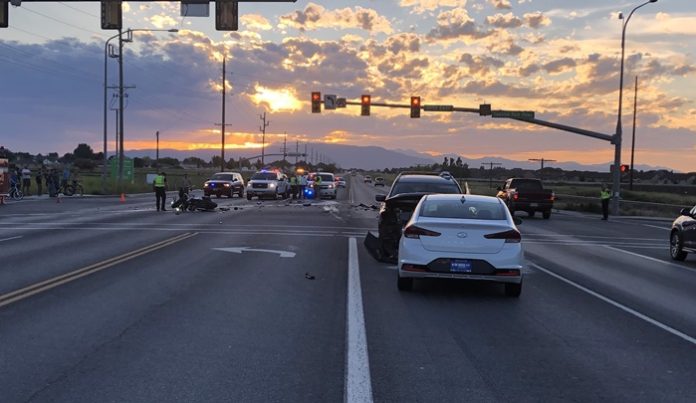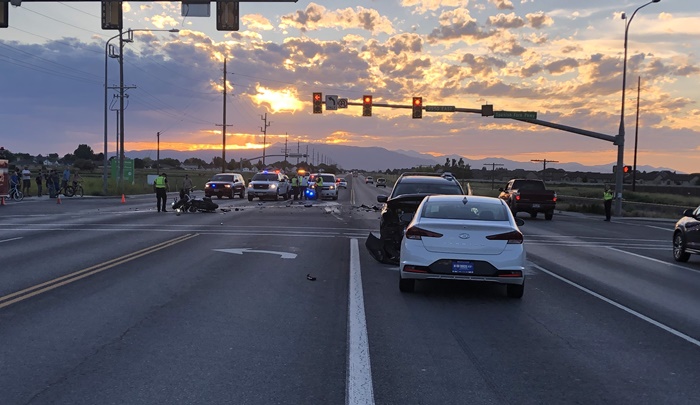 SPANISH FORK, Utah, June 25, 2019 (Gephardt Daily) — Officials have identified a woman who died Monday night when a Nissan Pathfinder rear-ended a Porsche, which then crashed into a Harley-Davidson motorcycle on eastbound U.S. Highway 6.
The deceased was the passenger in the Porsche, Angela Marie Palmer, 54, from Mapleton, said a follow-up news release Tuesday from Lt. Brandon Anderson, Spanish Fork Police Department.
The driver of the Porsche, Jeffery Palmer, 56, from Mapleton, is currently in ICU at a local hospital, Anderson said.
Three other people were injured, and officials do not have an updated condition on the 60-year-old male driver of the Nissan Pathfinder or the two people that were on the motorcycle.
Anderson said Monday evening officials are looking into whether the driver of the Pathfinder may have had a medical condition that caused him to crash into the Porsche, which was stopped in the left-turn lane at 2550 East.
Anderson told Gephardt Daily the light was red, and the Pathfinder didn't brake.
The impact forced the Porsche into the motorcycle in front of it in the turn lane.
Angela Marie Palmer, the passenger in the Porsche, was transported in extremely critical condition to the hospital, where she was pronounced deceased. The male driver, Jeffery Palmer, was transported, but his injuries were not as severe.
The male driver of the motorcycle and his female passenger, both in their 50s, were knocked off the bike and were taken to the hospital. There was no report on their condition, but their injuries were not considered life-threatening.
After crashing into the Porsche, the Pathfinder continued eastbound until it struck a small westbound passenger car. Anderson said the occupants of that vehicle had only minor injuries.
Gephardt Daily will update this developing story as more information becomes available.