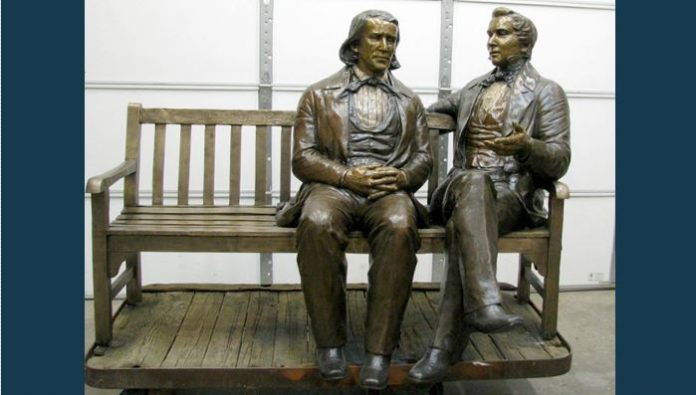 SALT LAKE CITY, Utah, May 24, 2017 (Gephardt Daily) — The Salt Lake City Police Department has recovered a sculpture of Joseph Smith and Brigham Young, the founder and second president of The Church of Jesus Christ of Latter-day Saints, which was stolen less than 24 hours earlier.
The bronze statue, weighing 800 pounds and valued at $125,000, was made for the Young Fine Art Studio Inc. and was stolen at about 4 a.m. Tuesday from 825 N. 300 West. The building was under renovation, and the statue had been stored in an outdoor area until it could be shipped.
Investigators said on Twitter Wednesday William Ford, 47, was taken into custody and questioned Tuesday night. Two more suspects, a man and a woman, remain at large.
Those two suspects, Larry and Traci, may live in the area of West High and 200 North, police said. Wednesday evening the SLCPD said the department would like to speak with Larry Forness, 52, as he's a person of interest in the case.
Surveillance footage shows that four thieves — all Caucasian, three men and a woman — were able to move the statue onto an open trailer and hauled it away with a white Ford Explorer in an operation that took about five minutes.
The status of the fourth person is not yet known.
A tweet from the Salt Lake City Police Department, posted at about 6:30 p.m. Tuesday, said the statue had been recovered "after a long day of detective work."

The statue was found intact. The work's creators had feared it might be broken down for scrap metal if it could not be located fast enough.
The piece was being held for shipping to Nauvoo, Illinois, a city important in LDS history, where Smith lost his life to gunshots from an angry mob.
The suspects face second degree felony theft and possession of stolen property charges.
To share information about this or other criminal activity with the Salt Lake City Police Department, please call 801-799-3000. To remain anonymous, text crime tips to 274637. Start the text with the keyword TIPSLCPD (which routes it to SLCPD), then a space, followed by the relevant information or photos. Reference: crimetip.