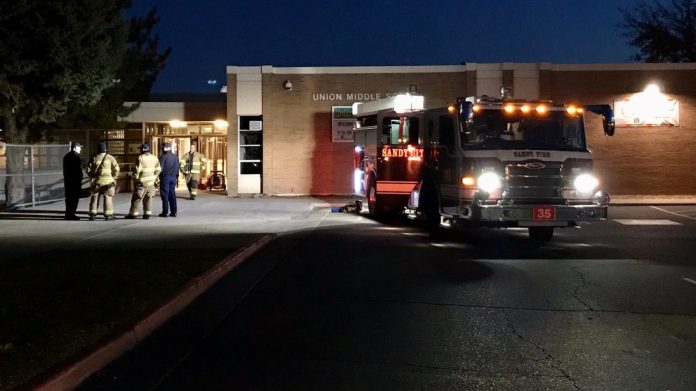 SANDY, Utah, Oct. 27, 2019 (Gephardt Daily) — Union Middle School in Sandy will remain closed Monday after an early morning fire that forced the cancellation of classes Thursday and Friday.
Jeff Haney, spokesman from the Canyons School District, told Gephardt Daily firefighters were called to the scene at 615 E. 8000 South about 5 a.m. Thursday by way of the school's fire alarm system.
When firefighters arrived they found a small electrical fire which had filled the school with smoke.
While there was minimal damage to the building the decision was made to cancel school for the day to give firefighters a chance to clear the building of smoke and carbon monoxide.
A Facebook update from Canyons School District Saturday said: "A crew that specializes in cleaning fire-damaged buildings has been hard at work at Union Middle since Thursday, when an electrical fire broke out in a social studies room. The Canyons Board of Education, Superintendent Dr. Jim Briscoe and Principal Kelly Tauteoli feel strongly we will not have students, teachers, Education Support Professionals or volunteers in a building that has not been properly cleaned and ventilated.
"As it stands today, the clean-up effort will not be done in time to hold school on Monday, Oct. 28. We are hopeful that we'll be able to hold school on Tuesday, Oct. 29. If that changes, we will communicate to parents as soon as possible through a phone message and email. The school community also is encouraged to also check the school and Canyons District website on Monday for updated information."