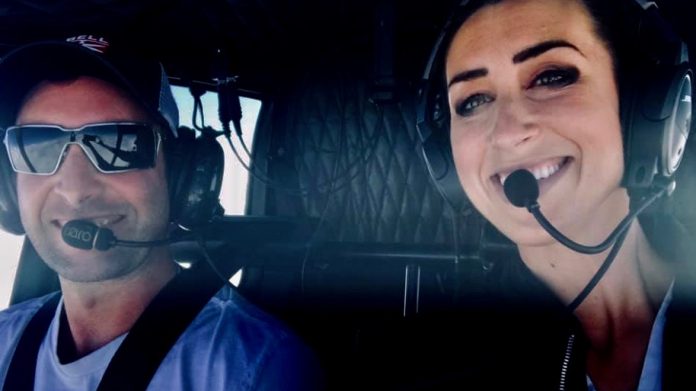 UTAH COUNTY, Utah, May 19, 2019 (Gephardt Daily) — Authorities have released the names of the two victims who lost their lives Friday in a helicopter crash in Utah County.
According to the Utah County Sheriff's Office, Benno Anthony Penna and his wife, Megan Michele Hawk Penna, both 32, died when the helicopter they were flying crashed in rough terrain in the mountains above Alpine.
Investigators say the Pennas were the only ones aboard the four-seat Robinson R-44. They were flying west from Vernal Regional Airport to South Valley Regional Airport in West Jordan, Federal Aviation Administration officials said.
They had taken off from their home in Ballard, Utah, and were co-owners of Hawk Transport, a business that provided companies with "customized transportation and logistics results." They also owned and operated HolloHawk Oilfield Services, a business that supplied support to drilling operations.
Authorities had been waiting to release their names pending notification of family members, including the couple's two young children.
Utah County officials first learned the helicopter was overdue after a relative of one of the Pennas called Air Force officials to report the helicopter was overdue. Those officials contacted Utah County Sheriff's Office, which mobilized multiple agencies for a search.
At 6:13 p.m. Friday, Sgt. Spencer Cannon, Utah County Sheriff's Office, tweeted to the media and public that the search was underway.
"UCSO SAR with airplane and DPS helicopter responding to report of overdue helicopter in mountains above Alpine."
At 7:07 p.m., Cannon tweeted that the "missing helicopter has been located," offering no additional details. Soon after, he posted that any drones or private helicopters in the area must leave.
"Drones and private aircraft must stay away or they may face criminal charges. Please comply!" he wrote.
The next tweet, at 8:32 p.m. Friday, showed a map with the approximate location of the helicopter, on the mountain northeast of Alpine.
"The terrain is steep and rugged with heavy vegetation. NTSB & FAA will respond to conduct their investigations," Cannon's tweet said.
At 9:16 p.m. Friday, the bad news was officially confirmed.
"There were two people on board the helicopter that crashed above Alpine in Utah County earlier today. Both were killed in the crash," Cannon tweeted. "Their names will be released after families have been notified."