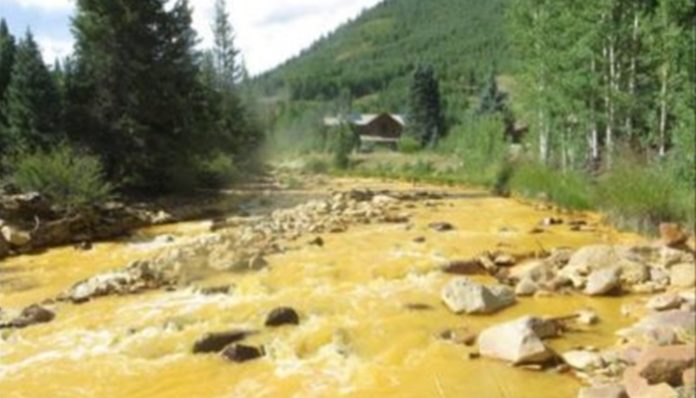 SALT LAKE CITY, Utah, Aug. 5, 2020 (Gephardt Daily) — The Office of the Utah Attorney General on Wednesday announced a settlement with the Environmental Protection Agency that will provide more than $360 million for remediation efforts in historic mining districts that pose an ongoing threat to Utah's waterways and environment.
To date, the EPA has spent more than $75 million at the Bonita Peak Mining District site and expects to spend more than $65 million over the next several years, as well as $220 million in clean up work on other abandoned mine sites, said a news release from the Utah Attorney General's Office.
The state of Utah will join forces with the EPA to monitor and clean-up these mining areas, even those located in other states.
Additionally, the State of Utah will receive $3 million in water quality grants from the federal government for projects located in Utah, the news release said. Further, the EPA will initiate and bear the cost for evaluations at multiple Utah sites; costs per site may exceed $200,000, to determine if further remediation is necessary.
In exchange for all these benefits, the state will dismiss its tort and CERCLA claims against the EPA and EPA contractors. While the past five years of water monitoring shows no sign of impact to public health or the environment, the settlement with EPA allows this case to be re-instated if future evidence of harm due to the blowout emerges, the news release said.
This deal ends a lawsuit filed after mine waste spilled from the Bonita Peak Mining District's Gold King Mine in 2015. An EPA contractor accidentally caused the release of millions of gallons of toxic water which flowed into the Animas and San Juan rivers, also impacting Lake Powell in August of that year.
Chief Criminal Deputy Spencer E. Austin, who oversaw day-to-day operations of the case, said: "Utah is fortunate Attorney General Reyes has such extensive environmental and complex-litigation experience. He was actively involved in this case and aggressively litigated and then aggressively negotiated a very favorable outcome on behalf of the people of Utah.
"Over my 45-year legal career trying cases, including my former partners and I handling some of the largest environmental cases in the nation, I have never seen a more favorable settlement for a plaintiff who, like the state of Utah in this case, ultimately lacked evidence of damages. In tort cases, you not only have to prove someone did something wrong, you must prove there is actual harm or damages resulting directly from that wrongdoing. Without evidence of harm to public health or the environment after years of monitoring, the state would have a difficult time at best proving its damages."
Utah Attorney General Sean D. Reyes says the deal will ensure that future generations are protected from toxic mine waste in the affected area and other abandoned mines in and outside the state by gaining unique concessions that ensure action from the EPA, and which will allow the state of Utah to partner with the agency on projects that would otherwise be ignored in the foreseeable future, the news release said.
Reyes said: "After years of intense litigation and negotiations, we are very pleased that millions of dollars can now be spent towards mitigation, remediation and assuring water quality in Utah rather than years of more litigation, trial and appeals. This is what cooperative federalism looks like — a true federal and state partnership.
"Protecting the people, public health and environment of the state have always been the top priority in this case. Our two goals were simple. First, get the federal government to clean-up massive amounts of waste still lurking in many historic mining districts including the one that caused the Gold King Mine blowout.
"We have achieved that goal through litigation and now settlement. We are highly encouraged the EPA has stepped up and committed hundreds of millions of dollars toward cleaning-up several dangerous mining districts containing billions of gallons of potentially harmful substances that threaten Utah if they are released. Further, our agreement with the EPA allows Utah to work as a partner in the remediation and monitoring of these areas to help ensure the state's best interests are protected.
"Our second goal in filing our case was to ensure our federal partners paid for any harm caused by the blowout. We had to file our case when we did and litigate as aggressively as we did with the facts we had at the time. We had to assume the worst–that long-term monitoring would eventually show harmful effects to health and the environment–and that such effects would coincide with illnesses and other impacts directly traceable to the Gold King Mine blowout."
Utah Department of Environmental Quality Executive Director, Scott Baird, added: "This settlement will enable DEQ to improve and protect water quality and human health across the state. The staff, scientists and engineers at Utah DEQ work tirelessly to safeguard and improve Utah's air land and water. We are pleased that EPA has taken responsibility and is committed to working with Utah."
Important facts about the current status of the Gold King Mine Accident:
The Surface Water is Clean: DEQ has been monitoring the San Juan River and Lake Powell since the release in 2015. There is no evidence that the metals from the release are impacting public health or the environment. DEQ continues to conduct studies on the sediments in Lake Powell to ensure no long-term impacts. DEQ also continues to work with EPA and other jurisdictions to resolve abandoned mine discharges throughout the San Juan River watershed.
Assurances for Future Water Quality: Also in the settlement, EPA has committed to providing $3 million in water quality grants to the Division of Water Quality. These water quality grants will be used to address challenging water quality problems in Utah such as harmful algal blooms in Utah Lake, protection of Utah's drinking water aquifers, and incentivizing pollution reduction from unregulated agricultural sources.