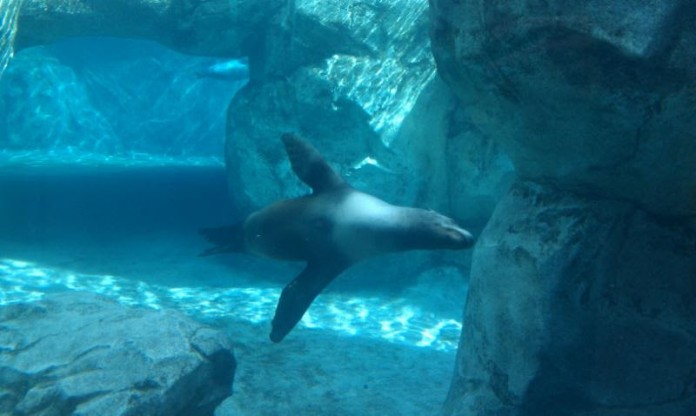 SALT LAKE CITY, Utah, May 2, 2016 (Gephardt Daily) — Hogle Zoo has announced the death of a popular member of its animal family ─ rescued California sea lion Rocky.
Rocky passed away on April 27 at the age of 4-and-a-half. He was born in October 2011.
A news release from Hogle Zoo community relations manager Erica Hansen said a necropsy ─ an animal autopsy ─ showed swollen lymph nodes throughout Rocky's body, suggesting an infection. A post-necropsy MRI of Rocky's brain also revealed evidence of past strokes, possibly associated with trauma he endured before arriving at Hogle Zoo.
Hansen said Rocky's success story was a favorite among zoo guests.
"Rescue crews found Rocky in Oakland, California," she said, in a prepared statement. "They discovered a pellet lodged in his head and gas bubbles in his brain. Though crews removed the pellet, the bubbles remained.
"Rocky was only the second sea lion to be diagnosed with the very rare condition. The last animal diagnosed with gas bubbles was released into the wild only to wash up on shore three weeks later."
Hansen said Hogle Zoo was eager to partner with Marine Mammal Center to offer Rocky a second chance at a great life.
"Every step of the way, Rocky has overcome the odds," said Michelle Hanenberg, Rocky Shores keeper. "He was the sole surviving sea lion with this condition, and we never knew how long we would get with him."
Christina Castellano, assistant director of Hogle Zoo programs, said rehabilitated animals often come with extra health risks.
"We love being able to offer them a good home and we make sure they have everything they need, but you never know what health issues you'll encounter."
Rocky passed away during a medical procedure. He went into several dive reflexes ─ where the animal stops breathing as though it is diving into water ─ while immobilized and his heart finally stopped. Rescue efforts were made, including CPR and medications given to the heart, but they were unsuccessful.
"It's certainly possible that due to Rocky's condition he didn't have everything he needed mentally and physically to fight off infection like a normal sea lion," said Nancy Carpenter, senior veterinarian.
Rocky's special condition made him a crowd favorite, Hanenberg said.
"He had a special connection with people. Things did not come easy to Rocky. He had to work twice as hard to do what was being asked of him. He had to give 110 percent every time."
He was also patient and forgiving, making him the perfect choice to work with new trainers, Hanenberg said.
"He taught us so much," she said. "He challenged us to look at things differently. What works for other sea lions did not work for Rocky, so we had to rethink our approach."
The keeper's relationship to Rocky was also part physical therapist.
"So much of our training with Rocky was to help him develop muscles to swim faster, and other things developmentally to help him on a daily basis," Hanenberg said.
"Rocky was the most earnest animal," she said. "He was always willing to try new things and he was so eager to do anything asked of him. Even when we were frustrated, Rocky was all in. He was right there trying hard; he would try and try. He never gave up.
"He was really inspiring in that way."