BURBANK, Calif., Feb. 9, 2017 (Gephardt Daily) — Late night host Conan O'Brien gave comedy kudos to BYU's "Studio C" this week.
"You do clean comedy," O'Brien told guests Stacey Harkey and Matt Meese, two cast members from the ensemble sketch comedy show, produced at Brigham Young University. "It's for families in an era where maybe that wouldn't be so popular, but I've noticed as a former sketch writer myself, the sketches are very well-constructed.
"You guys do a really nice job," O'Brien continued. "They're well put together and it's good comedy and I like that my kids like it because the sketches have a beginning, middle and end, and they're often very clever."
O'Brien asked Meese how they keep it clean, and Meese joked that they have an Irish Catholic grandmother in the writers' room, prompting O'Brien to quip that he has one in his head, but she can't control him.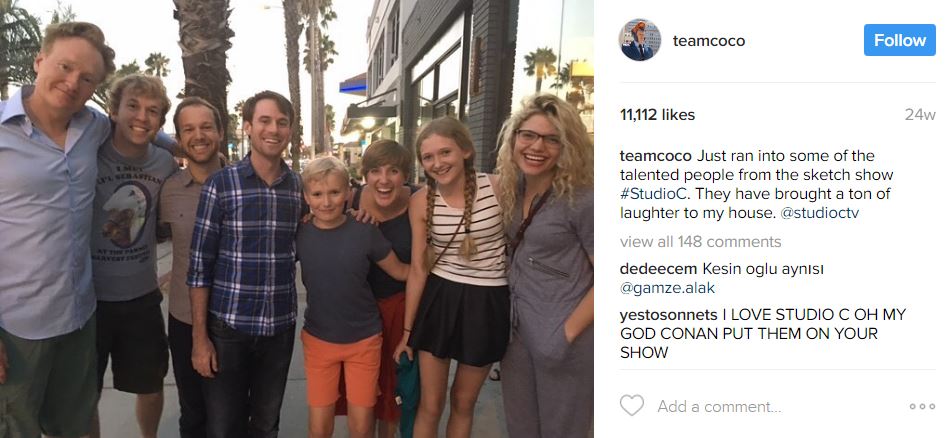 O'Brien said his son, 11, and daughter, 13, love the humor. Harkey said the cast's goal was never to do children's programming, but to create clean humor to entertain people of all ages.
"Studio C" plays on BYUtv, and skits also are posted on the show's YouTube channel, which has with 1.2 million subscribers. "Studio C"'s most popular video is "Top Soccer Shootout Ever With Scott Sterling," which has more than 50,400 views. New videos are posted every Monday, Wednesday and Friday.
To see Meese and Harkey's interview with O'Brien, click on the player above. To see a skit featuring more of the group, click on the player below.