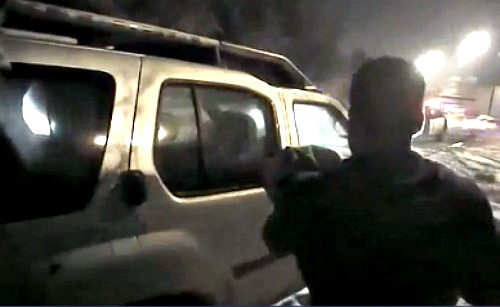 SALT LAKE CITY, Utah, Jan. 13, 2015 (Gephardt Daily) — Police have released a body cam video that captured the moment last week when a father discovered his son was safe, asleep in the back of an SUV that had been stolen about a half hour earlier.
The father had left his 7-year-old boy in the back of the idling vehicle at about 5 a.m. Jan. 6, and was returning to the apartment, near 900 North 900 West in Salt Lake City, to retrieve a second child.
That's when an unknown man jumped in the SUV and drove away with the boy still in the back seat.
Salt Lake City Police Department Lt. Dave Cracroft said the father contacted police, who issued an Amber Alert and began an intensive search of the area.
A short time later, a patrol officer spotted the stolen car, abandoned at 751 N. Grant St., about two blocks from the family's home. The child was still inside and uninjured.
Police say the episode is a painful reminder about just how dangerous it can be to leave vehicles running while unattended.