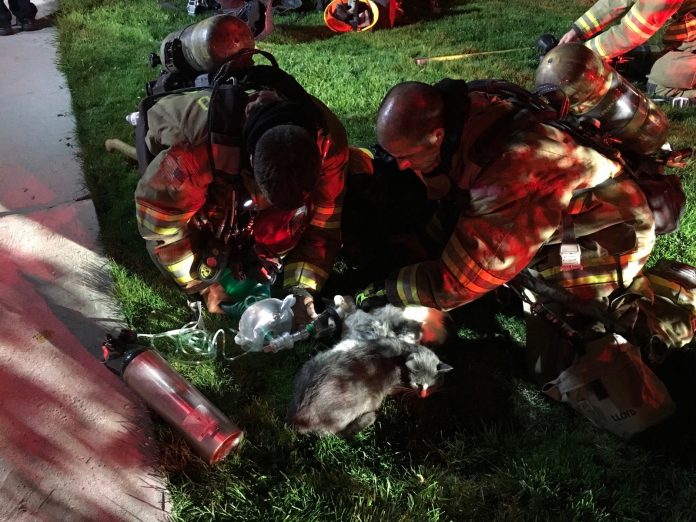 WEST VALLEY CITY, Utah, April 23, 2017 (Gephardt Daily) — A small fire in the basement of a home took the lives of two dogs Sunday night, but fire crews were able to save five cats and possibly the homeowner, as well.
West Valley City Battalion Chief Jeff Fox told Gephardt Daily that crews were called to a structure fire at 3205 S. 4000 West. When they arrived, he said, "Smoke was coming out of the door of the home and the owner was outside, a little confused."
Fox said the homeowner had been inside the house, looking for his animals before finally coming out.
When firefighters entered the home, they found a small fire in the basement, which they quickly extinguished.
"It didn't do a lot of damage," Fox said, "but there was a lot of smoke, and the CO (carbon monoxide) levels were really high."
Inside the house, firefighters found two dogs that had already expired, and they brought out five cats, which they were able to save.
"The five cats are doing fair," Fox said. "We had them on oxygen for a long time. We did an assessment on the homeowner. His CO levels were really high, so we treated him with oxygen."
Fox said it's understandable that the homeowner wanted to rescue his animals, but that isn't the best course of action.
"Our advice is to get out as soon as you can. And get family members out. Animals tend to hide and they can be hard to find. We're lucky the homeowner didn't go down inside. CO is a silent killer."
Fox said there was a lot of smoke, but he didn't have a dollar estimate for damage to the home. He said the cause is being investigated, but it is believed to be an electrical fire that started with an extension cord in the basement.
There were no injuries, he said, except for a firefighter being bitten by one of the frightened cats.
West Valley City fire, April 23, 2017