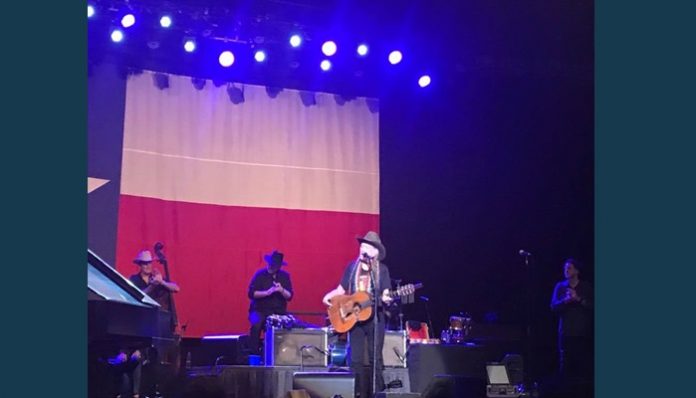 SALT LAKE CITY, Utah, Aug. 14, 2017 (Gephardt Daily/UPI) — Country legend Willie Nelson had to cut short a concert in Salt Lake City Sunday night after suffering respiratory issues.
The 84-year-old icon was experiencing breathing problems during the gig at the 20,000-capacity USANA Amphitheater in West Valley City, Billboard reported.
Nelson left stage, shortly before 10 p.m., after performing four songs, and starting a fifth. He was taken to a local hospital, multiple sources reported.
Nelson then posted a tweet at 11:30 p.m., which read:
"This is Willie. I am very sorry to have to cut the Salt Lake City performance short tonight. The altitude just got to me. I am feeling a lot better now and headed for lower ground."
Salem resident Natalie Swenson was at the show, and caught Nelson's hat when he threw it out into the crowd before he left the stage.
"It's been a life long dream of mine to see him, and this happened," she posted on Facebook. "We were so sad he left early and was hospitalized for breathing troubles due to high altitude."
Speaking exclusively to Gephardt Daily, she added: "My hopes were to have him sign the hat for me after the show … but we are so glad he's OK. We love him!"
Another concert-goer, Quin Harward, also commented on Facebook:
"If there's one artist people will forgive for ending early, it's Willie. When one person leaving was vocally upset, 30 people around them (including me) defended his decision. We want him healthy and around forever."
Speaking to Gephardt Daily, Harward added: "He played four songs and couldn't make it through Georgia. Before that, he was having troubles with the higher notes of 'On the Road Again,' letting the crowd sing it for him. Everyone keeps wondering if this concert will be the last, we're just grateful he's OK. And looking forward to his next trip to Utah, or somewhere nearby."
The incident is the latest health scare for Nelson after his publicist denied a report in March about the singer being deathly ill and after he canceled a weekend of shows in Las Vegas in January due to illness.
Nelson also delayed the start of a joint tour with Merle Haggard in October 2015, also citing illness.
He addressed various online hoaxes about his death on his song "Still Not Dead" from his latest album released in April, "God's Problem Child."

Texas-born Nelson has recorded more than 60 albums, written songs such as "Crazy," and appeared in more than 30 movies and TV shows. He rose to prominence in the late 1960s and early 1970s, and later released hits such as "Always on My Mind" and "On the Road Again."
Both songs peaked within the Billboard Hot 100, and throughout his career Nelson has had 20 No. 1 hits and 114 chart singles, according to the Country Music Hall of Fame.
Nelson has played Salt Lake City on a regular basis in the past, including a concert at Red Butte Garden in late July 2016.
His next scheduled tour stop is Tuesday at the Mountain Winery in Saratoga, California. The current tour concludes in Oklahoma on Nov. 25.