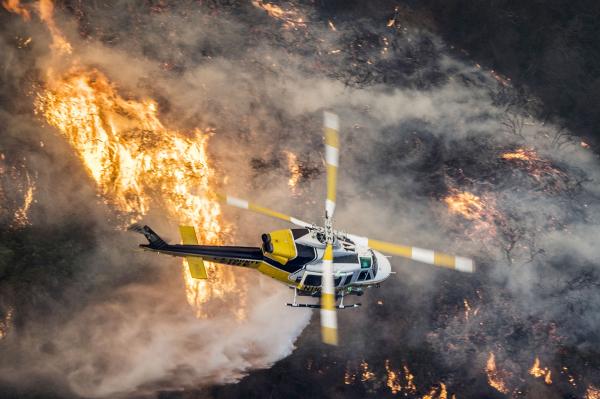 Dec. 7 (UPI) — Conditions are expected to worsen in Southern California Thursday as four major wildfires burn near Los Angeles with little containment — prompting 160,000 people to flee their homes.
Firefighters are dealing mainly with the Thomas Fire, the largest of the four, which started on Monday at 50 acres and quickly swelled to a 108,000 by early Thursday morning.
Authorities said the blaze is just 5 percent contained.
The Creek Fire had burned nearly 14,000 acres by late Wednesday and destroyed more than 30 buildings. It also is just 5 percent contained.
The Skirball Fire has burned through 450 acres — leading to a brief shutdown of the 405 Freeway — and the Rye Fire has blazed 7,000 acres in Santa Clarita, west of Valencia. At 10 percent containment, it is the most controlled of any of the four fires.
Officials warned, though, that the worst is yet to come, as 30-50 mph winds are expected to fan the flames.
"These are the kind of conditions that keep public safety officials up at night," Janet Upton, deputy director of the California Department of Forestry and Fire Protection, said. "This is that worst-case scenario that we prepare for but hope doesn't happen."
Evacuations have been ordered for tens of thousands of people — including 50,000 in Ventura County alone.
In anticipation of the blaze, all Los Angeles Unified Schools in the San Fernando Valley, along with 17 schools on the city's Westside, will be closed for the remainder of the week.
At least one person died as the result of the Thomas Fire, and 30 horses were killed by the Creek Fire Wednesday.
"These are days that break your heart," Los Angeles Mayor Eric Garcetti, who declared a state of emergency for his city, said. "But they are also days that show the resilience of our city."